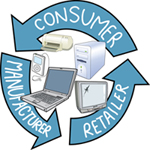 The items listed below are considered covered electronic equipment (CEE) by the NYS Electronic Equipment Recycling and Reuse Act. Therefore, these items are eligible for free collection through manufacturer take back programs and will be banned from disposal starting 2015.
Computers (including items such as tablets and e-readers)
Televisions (as well as cathode ray tubes)
Small Scale Servers
Computer Peripherals*

Monitors
Electronic Keyboards
Electronic Mice or Similar Pointing Devices
Facsimile Machines**
Document Scanners**
Printers**

TV Peripherals*

VCRs
Digital Video Recorders
DVD Players
Digital Converter Boxes
Cable or Satellite Receivers
Electronic or Video Game Consoles

Portable Devices*

Portable Digital Music Players
Tablets (considered a computer)
E-readers (considered a computer)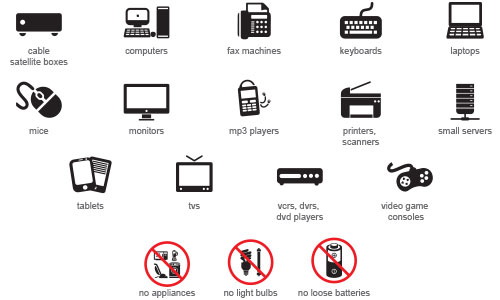 See information about other equipment not listed.
*Computer peripherals, TV peripherals, and Portable devices also include any cable, cord, or wiring permanently affixed to or incorporated into such product.
**Only those intended for use with a computer and weighing less than 100 lbs.
back to top | back to electronics take-back programs | back to electronics recycling