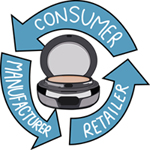 Back 2 M•A•C 

 
M•A•C Cosmetics' recycling program encourages customers to return six empty MAC plastic makeup containers (excluding Viva Glam line) in return for a free lipstick. The returned containers are recycled and remanufactured into objects such as plastic pallets, snow scrapers, pencils, and paper clip holders. Unrecyclable plastics are incinerated for energy recovery. Contact your local retailer for program details and rules.
Return to Origins Recycling Program 

 
Origins collects all brands of EMPTY cosmetics bottles, jars and tubes, and (glass or plastic). Plastic bags or wrapping, paper boxes and applicators (secondary packaging) are not accepted. Recyclable glass and plastics are sold for processing into new commodities while non-recyclable plastics are incinerated for energy recovery. In exchange, Origins will povide you with a FREE sample of your choice of one of Origins high-performance skincare products. To learn more about this program, visit Return to Origins FAQs.
If you cannot find a take-back program for your cosmetics, see if you can recycle the containers. If you cannot recycle them, place them in the regular trash.