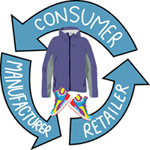 Recycle unwanted textiles, garments, and shoes through one of the manufacturer-sponsored take-back programs listed below.
Design Tex

can provide ship-to information for a number of their upholstery, panel, and drapery fabrics for recycling. The company pays for the return of all Designtex memo samples for recycling or reclamation.
The Nike Reuse-A-Shoe Program

recycles the rubber, foam, and fabric from any brand of used sneakers into padded flooring.
Nike Recycling Center
26755 SW 95th Ave.
Wilsonville, OR 97070
The Patagonia Common Threads Garment Recycling Program

recycles any brand of Polartec fleece, Patagonia organic t-shirts, and Capilene Performance Baselayers into new Patagonia clothing.
101 Wooster St
New York, NY 10012
(212) 343-1776
back to top | back to take-back
ALSO SEE:
nyc stuff exchange