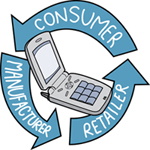 Recycle unwanted cell phones and accessories by dropping them off at retail locations sponsoring a take-back program. Under State (not City) law, the New York State Wireless Recycling Act requires all wireless providers who sell cell phones within the state to accept cell phones for recycling. Many wireless providers have in-store collection programs and mail-back programs, where a cell phone can be sent back to the wireless provider for recycling at no cost. In addition, some cell phone manufacturers and general retailers have voluntarily set up take-back programs for cell phones. Please check, prior to taking cell phones to a location.
If a provider refuses to recycle your cell phone, contact the NY State Department of Environmental Conservation

online or call 1-800-TIPP DEC (1-800-847-7332).

provider take-back programs


manufacturer take-back programs


retailer take-back programs
ALSO SEE:
cell phone donation options
electronics recycling
cell phone takeback requirements for retailers
---
Provider Take-Back Programs
back to top | back to take-back
---
Manufacturer Take-Back Programs
back to top | back to take-back
---
Local retailers participating in cell phone recycling programs include:
Cell phones can be sold or traded in at various online materials exchanges; visit the NYC WasteLess products and service page for info.