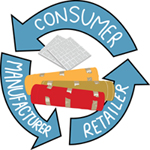 Armstrong's Ceiling tile program

introduced the industry's first ceiling recycling program in 1999.
Carpet America Recovery Effort (CARE)

is a voluntary initiative between members of the carpet industry and government to prevent carpet from burdening landfills. CARE focuses on developing carpet reclamation and recycling methods.
CarpetCycle

accepts residential carpet drop offs for recycling at no charge at their facility located at 16 Herbert Street, Newark NJ, 973-732-4858. They also offer pickup from your home or job site for a fee. CarpetCycle is a member of the Carpet America Recovery Effort (CARE).
InterfaceFLOR

, located at 404 Park Ave South, New York, NY 10016 (212) 686-8284, accepts used carpeting of any brand for remanufacture.
Interface Flooring Systems

sells a long-term carpet maintenance and replacement service. The company offers customers a bundled service package that includes design, layout, carpet-tile installation, ongoing maintenance, and ultimate removal of carpet tiles for recycling.
Invista

offers sustainable practices throughout every stage of its Antron brand carpet's life cycle. The Antron Reclamation Program removes and collects used carpeting and installation scraps, and ships it to an Invista recycling center.
ALSO SEE:
shopping tips for floor coverings