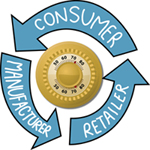 items that can be accepted


legal requirements


how to participate 
ALSO SEE:
thermostat take-back info for consumers 
back to top | back to take-back | back to business guidelines 
---
All mercury thermostats can be accepted.
back to top | back to take-back | back to business guidelines 
---
Related Laws:

NY State Mercury-Added Consumer Product Law
NY State ECL, Article 27, Title 21 

Businesses Affected:

Local heating and air conditioning wholesale providers, contractors, and retailers who sell thermostats.

Examples of those choosing to participate include: National Grid, Johnstone Supply Company, among others.

Additional Info:
 Visit the Thermostat Recycling Corporation (TRC)  for more information.
back to top | back to take-back | back to business guidelines 
---
| | |
| --- | --- |
| 1.     | Work with the manufacturer-funded Thermostat Recycling Corporation (TRC) to become a participating collection point. |
| 2.     | TRC provides recycling containers to eligible collection locations for a modest, one-time $25 participation fee. Following the initial fee, all services are provided at no cost. |
| 3.      | When removing mercury thermostats, contractors should handle the thermostats separate from other items, and place them in their containers. |
| 4.       | Contractors who do not obtain their own collection bin can find a drop-off location by visiting Thermostat Recycling Corporation (TRC) . |
| 5. | Wholesalers and retailers can accept mercury thermostats at a secure location at no cost. |
| 6. | Place a thermostat recycling sign at your place of business. For information about free images and signs visit business take-back signs. |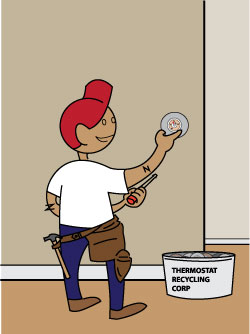 back to top | back to take-back | back to business guidelines