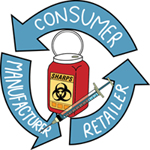 items that must be accepted


legal requirements


how to comply 
ALSO SEE:
sharps take-back info for consumers 
back to top | back to take it back nyc | back to business guidelines
---
• discarded unused sharps
• hypodermic, intravenous, or other medical needles
• pasteur pipettes, scalpel blades, or blood vials
back to top | back to take-back | back to business guidelines 
---
Applicable Law:

NY State Sharps Collection Law
Law: NY State PBH, Article 13, Title 13 Regulations: 10 NYCRR subpart 70

Businesses Affected:

All NY hospitals and nursing homes.

Pharmacies and other service providers who provide sharps may also participate through the Expanded Syringe Access Program (ESAP).

Additional Info:

Visit the NYS Department of Health  for info about the law as well as the ESAP program .
back to top | back to take-back | back to business guidelines 
---
| | |
| --- | --- |
| 1.     | Accept properly contained sharps from residents in a convenient but secure location. |
| 2.     | Educate consumers on proper containers and storage. |
| 3.      | Train responsible staff on the proper handling of sharps and what to do in the event of spillage. |
| 4.       | Ensure secure transfer and disposal of sharps. |
| 5. | Provide public information about the program. This can take the form of brochures, press releases, or television and radio spots.6. |
| 6. | Signs can be posted directing consumers toward collection points. For information about free images and signs visit business take-back signs. |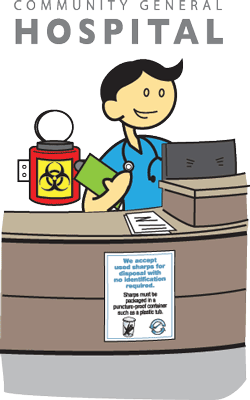 back to top | back to take-back | back to business guidelines