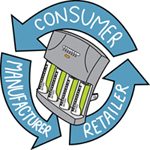 items that must be accepted


legal requirements


how to comply


online, mail, telephone retailers 
ALSO SEE:
rechargeable battery and cell phone recycling: info for agencies
nyc rechargeable battery law: info for consumers  
back to top | back to take it back nyc | back to business guidelines 
---
Items That Must Be Accepted
The same types of rechargeable batteries sold, including:


• nickel cadmium
• nickel metal hydride
• lithium ion
• small sealed lead acid
Stores must also accept rechargeable batteries found in the products they sell.
back to top | back to take it back nyc | back to business guidelines 
---
Applicable Law:
NY State Rechargeable Battery Law
NY State ECL, Article 27, Title 18
Businesses Affected:

Stores that sell rechargeable batteries or products containing rechargeable batteries.

Exceptions: food stores with less than 14,000 square feet of display space.

Additional Info:

Rechargeable battery manufacturers have created the Call2Recycle program to help retailers set up rechargeable battery recycling programs. Visit www.call2recycle.org  or call (800) 8-BATTERY (800-822-8837).
For info about the law, visit the NYS Department of Environmental Conservation .
back to top | back to take it back nyc | back to business guidelines 
---
1.    
Sign up online for the free Call2Recycle recycling program. Go to www.call2recycle.org , click on "Retailers" in the green navigation bar on the right, and follow the easy steps, or call the toll-free telephone number 877-723-1927. Participants will receive a free collection container.
2.    
Place rechargeable battery collection boxes (supplied by the manufacturer) in visible and easily accessible locations. 
3.     

Post a sign near store entrance that states:

It is illegal to dispose of rechargeable batteries in the city of New York as solid waste. We accept used rechargeable batteries for return to the manufacturer.

The sign must be at least 8½" x 11" with 1 inch lettering. Compliant signage is available at no cost through call2recycle.org. For information about free signs visit business take-back signs.


4.      
Accept up to ten batteries per day from any person,
or as many batteries as a customer buys during normal business hours, no purchase necessary.
5.

Follow safety and shipping requirements.

U.S. Department of Transportation (DOT), Pipeline and Hazardous Materials Safety Administration (PHMSA) has specific guidelines regarding the collection, handling, and transport of batteries. These requirements exist to prevent situations that can arise from two specific types of battery hazards:

Chemicals or other materials contained in the battery, and

Electrical potential of the battery.

The Call2Recycle program has a summary  of the steps retailers need to take to comply with collection , storage, and transportation regulations.

6..      

Mail back full rechargeable battery collection containers to Call2Recycle using the shipping label on the container.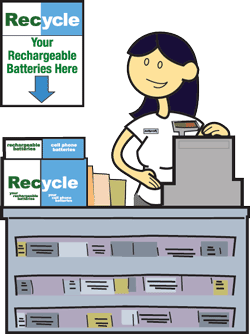 back to top | back to take it back nyc | back to business guidelines 
---
How Online, Mail, and Telephone Retailers Can Comply
 1.    
Online, mail, and telephone retailers must notify customers purchasing rechargeable batteries (or products containing rechargeable batteries) about how to recycle rechargeable batteries at no cost.

 2.    

Notification must occur either at the time of purchase or delivery of the product.

Notification Examples include:

Information on receipt, invoice, or confirmation e-mail.


Information on separate e-mail or message.


Flyer or return envelope provided within product packaging or shipping container.

 3.    

The required notice can include any program where there is no cost to the customer to return rechargeable batteries.

All retailers can use the Call2Recycle program to notify their customers.   

Call2Recycle maintains a website (www.call2recycle.org ) and a toll-free "hotline" phone number (877-2-RECYCLE), where individuals can find a location to bring rechargeable batteries for recycling.  

Call2Recycle provides free web banners  for online retailers who wish to include a link to the Call2Recycle website.
back to top | back to take it back nyc | back to business guidelines