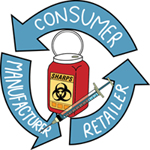 items that can be accepted


legal requirements


how to participate 
ALSO SEE:
unwanted medication take-back info for consumers 
back to top | back to take-back | back to business guidelines
---
Over the counter medications and prescription medications other than controlled substances.
back to top | back to take-back | back to business guidelines
---
Related Laws:

Controlled Substances Act
21 USC, Chapter 13

Businesses Affected:

Pharmacies. Examples of those choosing to participate include: CVS, Walgreens (including Duane Reade), and Rite-Aid.

Additional Info:

Visit the NYS Department of Environmental Conservation  for info on the safe disposal of unwanted medications.

Visit products and services to find relevant vendors.
back to top | back to take-back | back to business guidelines
---
| | |
| --- | --- |
| 1.     | Work with a vendor to provide postage-paid collection envelopes to customers or collect medication on-site. |
| 2.     | If collecting medication on-site, place collection containers in a safe and secure location accessible only by qualified pharmacy employees. |
| 3.      | Provide information about controlled substances, which can only be collected by proper authorities, as well as the dangers of flushing medicine down the toilet. |
| 4.       | Display a sign indicating that unwanted medications are accepted or envelopes are provided. For information about free images and signs visit business take-back signs. |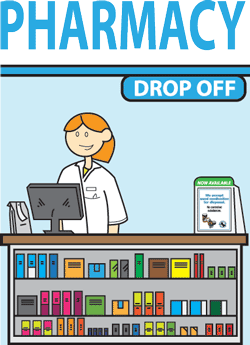 back to top | back to take-back | back to business guidelines