items that must be accepted


legal requirements


how to comply 
ALSO SEE:
motor oil take-back info for consumers 
back to top | back to take-back | back to business guidelines 
---
• motor oil
• transmission fluid
• hydraulic fluid
back to top | back to take-back | back to business guidelines 
---
Applicable Law:

NY State Motor Oil Regulations
Law: NY State ECL, Article 23, Title 23
Regulations: 6 NYCRR subpart 360-14 and 6 NYCRR subpart 374-2

Businesses Affected:

Service establishments (such as vehicle repair shops) that sell at least 500 gallons per year of new oil and perform vehicle servicing.

Retail establishments (such as auto parts stores) that sell at least 1000 gallons per year of new oil.

Additional Info:

For info about the law, visit the NYS Department of Environmental Conservation .
back to top | back to take-back | back to business guidelines 
---
1.    

Accept, at no charge, up to 5 gallons of used oil per person per day. (Retailers that are not service establishments may contract to have another service or retail establishment accept used oil on their behalf.)

2.    

Prominently display a sign legible from at least 25 feet from outside the building with at least 1 inch lettering stating:

We accept used oil for recycling at no charge.

For information about free images and signs visit business take-back signs.

3.     
Contract with a permitted industrial hauler to pick up used oil for recycling or disposal.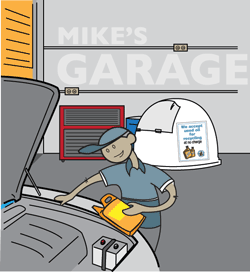 back to top | back to take-back | back to business guidelines