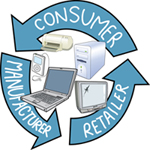 items commonly accepted


legal requirements


how to comply


how to participate
*Note: This page outlines requirements for retailers. Manufacturers have their own manufacturer requirements

.
ALSO SEE:
electronics take-back info for consumers
back to top | back to take-back | back to business guidelines
---
• cable or satellite receivers
• computers
• digital converter boxes
• document scanners
• DVD Players
• DVRs
• electronic keyboards
• electronic mice/pointing devices

• electronic or video game consoles
• facsimile machines
• monitors
• portable digital music players
• printers
• televisions (as well as cathode ray tubes)
• small-scale servers
• VCRs
For a full list of products that manufacturers are required to accept, see covered electronic equipment.
back to top | back to take-back | back to business guidelines
---
Related Laws:

NYS Electronic Equipment Recycling and Reuse Act
NY State ECL, Article 27, Title 26

Businesses Affected:

Retailers that sell electronics must meet certain sales and public information requirements. In addition, retailers can voluntarily partner with manufacturers to collect electronics from residents and small businesses.

Examples of large and small retailers choosing to participate include Best Buy, Staples, and Tekserve, among others.

Additional Info:
For info about the law, visit the NYS Department of Environmental Conservation website or call them at 518-402-8706.
back to top | back to take-back | back to business guidelines
---
| | |
| --- | --- |
| 1. | Do not sell electronics from un-registered manufacturer. Check the link above for a list. |
| 2. | Provide public education about the recycling of electronics. For information about free images and signs visit business take-back signs. |
back to top | back to take-back | back to business guidelines
---
| | |
| --- | --- |
| 1. | You are not required to limit the types of electronics you collect to those you also sell. Accept all types of covered electronics. |
| 2. | Work with manufacturers to develop a free program to conveniently collect covered electronic waste from consumers for reuse or recycling. |
| 3. | Manufacturers are required to recycle electronic equipment generated by your business. Fees may apply. |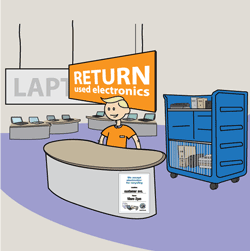 back to top | back to take-back | back to business guidelines