items that must be accepted


legal requirements


how to comply
ALSO SEE:
bottles and cans take-back info for consumers 
back to top | back to take-back | back to business guidelines 
---
| | |
| --- | --- |
| • carbonated soft drinks | • soda water |
| • sparkling water | • water |
| • carbonated energy drinks | • beer and other malt beverages |
| • carbonated juice drinks | • wine coolers |
back to top | back to take-back | back to business guidelines 
---
back to top | back to take-back | back to business guidelines
---
1.    
Collect a 5¢ deposit on the sale of each container.
2.    

When purchasing beverages, pay 5¢ deposit to the distributor.

3.     
Accept covered types of containers and pay refunds during normal business hours (except during the first and last hour of business).
4.      
No purchase is required to drop off containers. Individuals can drop off up to 240 containers per day (smaller stores can limit it to 72 containers during certain hours). Individuals may request with 2 days advance notice to drop off an unlimited number of containers.
5.
Chain stores must use Reverse Vending Machines (RVM) to accept containers. The number of RVMs is dependent on the size of the store.
6.

Post an 8"x10" or larger "New York Bottle Bill of Rights" sign near your registers. This sign must state any limitations on acceptance. For information about free images and signs visit business take-back signs.

7.

A store may refuse to return a deposit if:
– store does not carry that type of container.
– container does not have a proper New York refund label.
– container is not in reasonably good condition.
– container has anything in it besides small amounts of dirt, dust, or moisture.
– store may reject broken bottles or cans that are corroded or crushed.

8.
Sort and return containers to distributors.
9.
Distributor must pay 8.5¢ per container (includes 3.5¢ handling fee) to retailers or redemption centers.
10.
Distributors must remit 80% of unclaimed deposits to NY State, according to NY State tax regulations .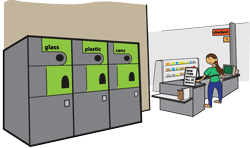 back to top | back to take-back | back to business guidelines