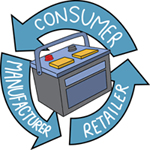 items that must be accepted


legal requirements


how to comply 
ALSO SEE:
auto battery take-back info for consumers 
back to top | back to take-back | back to business guidelines 
---
Any lead or sulfuric acid vehicle battery of six or more volts.
back to top | back to take-back | back to business guidelines 
---
Applicable Law:

NY State Auto Battery Regulations
Law: NY State ECL, Article 27, Title 17
Regulations: 6 NYCRR 374-1.7

Businesses Affected:

Retailers that sell new lead-acid batteries to consumers and distributers (including manufacturers) that sell lead-acid batteries to retailers.

Includes locations such as auto parts stores and vehicle repair shops.
back to top | back to take-back | back to business guidelines 
---
1.    

Accept up to two used auto batteries per month from any person.

2.    

Prominently display a sign showing the recycling symbol and stating:

It is illegal to discard vehicle batteries. State law requires us to accept vehicle batteries at no charge for recycling.

For information about free images and signs visit business take-back signs.

3.     
If the consumer does not return a used lead-acid battery when purchasing a new one, then collect a return-incentive payment of $5 per battery sold.
4.      
Refund the $5 if the consumer returns the battery within 30 days.
5.
Ensure that the auto batteries are properly recycled, or managed and disposed of as hazardous waste.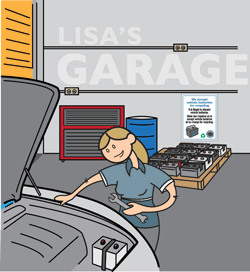 back to top | back to take-back | back to business guidelines