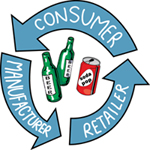 Under NY State's (not City's) Returnable Container Act, carbonated soft drinks, water, soda water, beer, malt beverages, and wine cooler containers under 1-gallon have a 5 cent deposit. Dealers must refund the deposit on all containers of the same type (brand, size, shape, color, and composition) they sell for off-premises consumption, regardless of where the container was originally purchased.
A store may refuse to return a deposit if:
The store does not carry that type of container.

The container does not have a proper New York refund label.

The container is not in reasonably good condition.

A store may reject broken bottles or cans that are corroded or crushed.

The container has anything in it besides small amounts of dirt, dust or moisture.
A store may limit a person to redeeming 240 containers at one time and in one day. However, the law says that a consumer may make 48-hour advance arrangements to redeem an unlimited number of empty beverage containers. Stores that are not open 24 hours a day do not have to accept containers during the first and last half hour of their business day.
Read about New York's Bottle Bill 

and access the law about Returnable Beverage Containers 

on the New York State Department of Environmental Conservation (NYS DEC)

website.
The NYS DEC (not the NYC Department of Sanitation) is responsible for enforcing New York State's returnable container law. To register a complaint, complete their Returnable Container Complaint Form and mail it to the address indicated on the form. For more information, go to Report an Environmental Problem 

on the NYS DEC website, or contact DEC law enforcement for Region 2.

The Bottle Bill Resource Guide 

provides background information on the environmental and economic impacts of deposit laws and on current campaigns to expand bottle bills in the United States and abroad.
In addition, food service establishments where customers clear their own tables are required to provide labeled containers for these recyclables.
ALSO SEE:
retailer bottle bill requirements