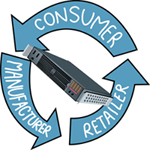 New York State's Rechargeable Battery Law mandates retailers that sell lead-acid batteries up to 25 pounds to accept lead-acid batteries of the same weight free of charge. In addition, Call2Recycle accepts lead acid batteries that weigh up to eleven pounds.
Unwanted UPS batteries can also be recycled through one of the manufacturer-sponsored mail-back programs listed below, or through a recycling service provider. Some charge a processing fee, and some require the purchase of a new battery.
You can also bring UPS batteries to any NYC Department of Sanitation Special Waste Drop-Off Site or upcoming SAFE disposal events. Do not place batteries in your recycling bin.
ALSO SEE:
tips on battery-powered devices
battery take-back requirements for retailers