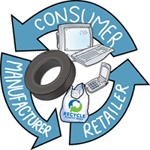 Some items not accepted through NYC's recycling program must, or can be, recycled through mandatory and voluntary take-back programs.
If you are a retailer or service provider, please see business guidelines.
ALSO SEE:
product stewardship
take-back laws
nyc's recycling game
---
Mandatory Take-Back Programs
Certain items are required by law to be accepted by retailers or manufacturers. Whenever you have a product to take back, call before you go to ensure that retailers are complying with the law.
auto batteries
bottles and cans*
cell phones
electronics
motor oil
paper*
plastic bags

rechargeable batteries
refrigerants*
sharps
tires
smoke detectors
UPS batteries
* Also accepted in NYC's recycling program
---
Voluntary Take-Back Initiatives
Some manufacturers on their own initiative set up methods to accept certain products.
BACKYARD
gas tanks

CLOTHING & ACCESSORIES
clothing
baby items
cosmetics*
metal hangers*

CONSTRUCTON
ceiling and flooring
lighting
thermostats

KITCHEN & BATH
Brita water filters*
#5 plastics and other rigid plastic containers*
disposable coffee pods
flexible plastic packaging
pharmaceuticals

ELECTRONICS & ACCESSORIES
camera film
cell phones
computers and televisions
headphones
ink and toner cartridges

STORAGE & SHIPPING
boxes
packaging
pallets and crates
* Also accepted in NYC's recycling program