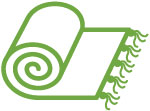 Visit the NYC Stuff Exchange

to find a place to sell or donate gently used rugs and carpets.
Rugs, linens, and other textiles in good condition can be brought to animal shelters to use for bedding and bathing the animals (especially towels).
If your rugs are in good condition, put them up for grabs or sell them on an online materials exchange.
Bring clean portable rugs to a swap.
Some retailers and manufacturers take back certain types of textiles such as carpeting. Go to take-back programs for a list of manufacturers or retailers that accept these items for recycling.
For general reuse tips, visit reuse it nyc.
If you cannot find a second home for your textiles, visit residential disposal guidelines to find out how to recycle or discard them.