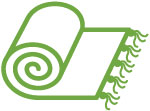 Visit the NYC Stuff Exchange 

 to find a place to sell or donate gently used rugs and linens.
Rugs, linens, and other textiles in good condition can be brought to animal shelters to use for bedding and bathing the animals (especially towels).
If your rugs and linens are in good condition, put them up for grabs or sell them on an online materials exchange.
Bring clean portable rugs and linens to a swap.
Request a re-fashioNYC clothing donation bin for your building. In addition to clothing, you can deposit your clean linens, too. Through this program, New Yorkers can take waste reduction to a new level by keeping as much as tens of thousands of perfectly good clothing, linens, shoes, and accessories out of landfills every year.
(Note: some commercial textile recyclers solicit used clothing & linens through drop-boxes and collection drives. They resell your used goods for profit and recycle the remainder, giving a token share to charity. Your "donations" are not tax-deductible, but at least your items are removed from the waste stream. For more information about drop-boxes see NYC Textile Collection Bin Laws.)
Some retailers and manufacturers take back certain types of textiles such as carpeting. Go to take-back programs for a list of manufacturers or retailers that accept these items for recycling.
For general reuse tips, visit reuse it nyc.
If you cannot find a second home for your textiles, visit residential disposal guidelines to find out how to recycle or discard them.