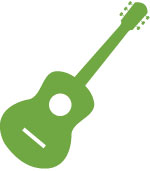 Visit the NYC Stuff Exchange 

 to find a place to sell or donate gently used musical instruments.
Bring your instruments to a swap.
Put your gently used items up for grabs, or sell them, on an online materials exchange.
For general reuse tips, visit reuse it nyc.
If you cannot find a second home for your housewares and kitchen items, visit residential disposal guidelines to find out how to recycle or discard them.  If predominantly metal or rigid plastic, can be placed with your metal, glass, plastic, & carton recycling. All other items can be placed out with regular or bulk refuse.