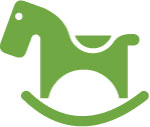 Children outgrow their clothing and toys quickly, making children's items a great source of high-quality second-hand goods.
Many organizations throughout NYC accept donations of children's items along with general donations. Visit the NYC Stuff Exchange

to find a place to sell or donate gently used clothing, housewares, toys, and games.
However, it is important to be aware that the Consumer Product Safety Information Act (CPSIA) regulates the resale of children's toys containing lead. This law, commissioned by the Consumer Product Stewardship Committee (CPSC), requires resellers of children's toys to prove, through lab tests, that the children's products they accept and re-sell are lead-free. Many second-hand outlets simply reject donations of any children's toys to avoid overly burdensome and expensive lead-content lab tests.
If your local thrift store refuses to accept your donation, you can try bringing your items to a swap, posting them on an online materials exchange, or contacting other organizations that are set up specifically for exchanging children's items, such as online parenting groups, kids consignments services, and children's thrift stores. For more information about these opportunities, visit children's items products and services.
You may also find it helpful to take advantage of a take-back program for baby items, where products are either donated (if in good condition) or disassembled and recycled.
For general reuse tips, visit reuse it nyc.
If you cannot find a second home for your children's items, visit residential disposal guidelines to find out how to recycle or discard them. If predominantly metal or rigid plastic, they can be placed with your metal, glass, plastic, & carton recycling. Please avoid putting batteries in with your recycling as they are a fire hazard. All other items can be placed out with regular trash or bulk refuse.