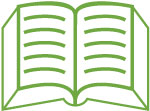 Visit the NYC Stuff Exchange

to find a place to sell or donate used media. Many organizations (especially libraries) have strict rules about the types of books they accept, if they accept books at all. Some organizations accept books in certain genres only, while the majority of organizations do not accept encyclopedias, other dated publications, or any book in poor physical condition.
Bring your books, CDs, DVDs, and other media to a swap.
If you cannot find a donation outlet, consider participating in a book exchange or an online media material exchange to trade your stuff. You can also swap or sell these items on general materials exchanges such as Craigslist or eBay.
If in poor condition, recycle your paperback books. Softcover may be placed with your paper and cardboard recycling (but not hardcover books!). For hardcover books (and softcover books), contact an independent book recycler.
CDs, DVDs, vinyl records, disks and CD & DVD cases can be placed with your metal, glass, plastic, & carton recycling. Cassettes and VHS tapes are problematic to recycle and cannot be placed with your metal, glass, plastic, & carton recycling.
Due to the mix of materials and plastics found in most media, they are very difficult to recycle. To ensure the best possible end use for your media, find a media recycler.
For general reuse tips, visit reuse it nyc.