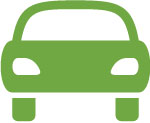 Visit the NYC Stuff Exchange 

 to find a place in NYC to sell or donate your old vehicle.
For general reuse tips, visit reuse it nyc.
If you cannot find a second home for your vehicle, look in the yellow pages under auto wreckers, junk dealers, etc. to dispose of it properly. If you notice an abandoned vehicle, report it to DSNY 

.