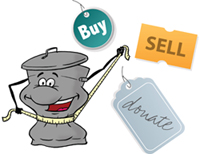 See below for various reuse options. If none of these work, determine whether the item should be recycled, placed out on the curb as bulk

, or discarded in the regular trash.
---
Visit

NYC Stuff Exchange website

or

download the iPhone app

to learn where in NYC to donate, buy, or sell antiques, artifacts, collectibles, and gently used goods (including high-end and designer items).

Visit

ReuseNYC

to learn about sales, events, volunteer days, and job opportunities within the reuse community. Members of ReuseNYC are local nonprofits who work with NYC to reduce what enters the waste stream by accepting and redistributing second-hand goods while also providing social services and economic savings.

Check the

Calendar of Events

to find local donation drives, book fairs, rummage sales, and swap meets.

Request a

re-fashioNYC

clothing donation bin for your building. re-fashioNYC is a partnership between NYC and Housing Works to make clothing donation easy with in-building drop-off for buildings with 10 or more units.

Check out the NYC Service website for other places where New Yorkers can donate goods.

Participate in a Swap event.

Sell items at a stoop sale, or by posting a flyer on local bulletin boards.

Businesses can exchange materials via

NYC WasteMatch

, a NYC Department of Sanitation sponsored program.
ALSO SEE:
reuse info for agencies
reuse info for businesses
support for reuse organizations
back to top | back to reuse it nyc
---
Specific Items
ALSO SEE:
reuse info for agencies
reuse info for businesses
support for reuse organizations