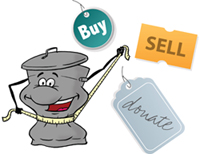 To donate or sell usable furniture and equipment, businesses can utilize NYC WasteMatch 

, a citywide reusable materials exchange program, which is implemented with the City University of New York. NYC WasteMatch helps businesses save money by providing a brokering service for industrial by-products, packaging, and other items that are potentially reusable, but for which there are not well-established recycling markets.
Another donation option worth considering is donating usable office furniture and equipment to Materials for the Arts 

for redistribution to NYC schools and nonprofit arts and cultural organizations.
If you do not have the time or resources to sell the item yourself, contact an established materials exchange, such as NYC WasteMatch 

, or a broker, who can do the legwork for you at a minimal price.
If you have theatrical equipment, set materials, and/or props, contact theater and film reuse centers.
Businesses who regularly collect and donate clothing can request a re-fashioNYC bin. A partnership between the City of New York and Housing Works, re-fashioNYC makes clothing donation as easy as possible through convenient, in-building drop-off service.
Nonprofits who would like to receive surplus materials can register with NYC WasteMatch 

, shop at Materials for the Arts 

, or get listed on NYC Stuff Exchange 

, a free website where NYC residents can go to find out where to donate, buy, or sell used goods in NYC. Visit our reuse organization page for more information.
ALSO SEE:
surplus inventory management
helpful links: get donated goods