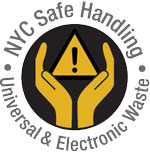 Agency Safe Handling Training Courses


The Department of Sanitation developed the following courses to assist agency staff with various parts of the agency safe handling program.
Safety training. For facilities and IT staff actively engaged in the disposal/recycling of universal and/or electronic waste, as well as audit inspectors, safety training classes is offered online or in DVD format 

 for those with computer connection limitations.
Three versions of the safety training are offered: one for facilities managers and supervisors, one for staff, and one for IT personnel. Although very similar in content, each of these courses are designed to focus on the unique roles that each group plays in the disposal/recycling of the designated waste products.
For training practitioners these courses are available to download as a PowerPoint presentation 

, and should be incorporated into new staff orientation classes.
Contract usage training. In order to familiarize the ACCO and purchasing staff with the contract scope and procedures and contract usage training is available online or in DVD 

 format for those with computer connection limitations.
Audit training. Classroom audit training was offered through The CUNY's New York City College of Technology for all staff designated by their agency to conduct compliance audits. As the audits have been completed, this training is no longer available, but information about the audits and materials from this training can be found on the citywide audit page.