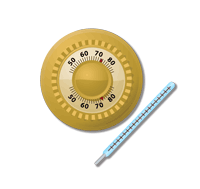 It is illegal in New York State to discard consumer products that contain mercury in the trash. Such products include common household items such as thermometers and thermostats.
Fluorescent lamps and CFLs contain small amounts of mercury but are exempt from these regulations.
---
Switch to a digital fever thermometer. New York State has banned the sale of mercury-fever thermometers. Digital thermometers with changeable batteries are accurate and reliable alternatives to mercury thermometers.
Switch to programmable electronic thermostats. These do not contain mercury and are more energy efficient than mercury ones.
ALSO SEE:
heating and cooling system tips
---
When remodeling your home or updating your heating system, be sure to ask your contractor to carefully remove and recycle your thermostat.
Mercury thermostats can be brought to Thermostat Recycling Corporation participating collection locations.
You can bring mercury-containing devices to any NYC Department of Sanitation special waste drop-off site or upcoming SAFE disposal events.
Do not place mercury devices in your recycling bin.
---
Liquid Mercury, that NYC residents may have stored away cannot be discarded in the trash.
Can be disposed of at upcoming NYC Department of Sanitation SAFE disposal events. Alternatively, contact a hazardous waste vendor.