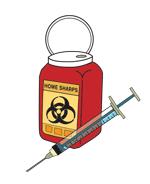 medical equipment


syringes and lancets


unwanted medications


other household medical materials
ALSO SEE:
thermometers and other mercury devices
harmful products handling tips
---
Used medical equipment, such as wheelchairs or motorized scooters, can often be donated or sold. Medical equipment that is mostly metal or rigid plastic can be placed at the curb for recycling with metal, glass, and plastic. Visit products and services for locations that can help you donate your medical equipment.
---
Used Syringes and Lancets
Many people use syringes, needles, and lancets-known as household sharps-to manage their health care at home. Proper storage and disposal of these items is necessary to protect children, pets, and Sanitation workers. Needles and other sharps may cause cuts and the transmission of blood-borne diseases such as Hepatitis B and HIV/AIDS. Follow the tips below for proper handling of these products. To read more about sharps handling, visit sharps helpful links.
Place used syringes and lancets in a "sharps" container or other leak proof, puncture-resistant container, such as a laundry detergent or bleach bottle. If using a detergent or bleach bottle, close the screw-on top tightly and label the container "Home Sharps--not for recycling." Make sure to keep the container closed between uses. Do not clip, bend, or try to recap syringes and lancets.
Keep away from children and pets. Put used sharps immediately into your sharps container and make sure to keep the containers away from children and pets.
SAFE DISPOSAL
Bring used sharps to any hospital or nursing home in New York State. All NY hospitals and nursing homes are required by law to act as collection centers for the take-back of used household sharps, including syringes and lancets, with no identification required. Make sure sharps are packaged safely and call hospitals and nursing homes for drop-off times and instructions prior to transporting materials to their facility.
In addition to hospitals and nursing homes, various local pharmacies and other health sites may voluntarily and anonymously accept sharps. Visit take it back nyc to find locations near you that accept sharps. Alternatively there are vendors who sell pre-paid mail-back kits for used sharps.
If not taking advantage of a sharps disposal program, place properly packaged and labeled "home sharps containers" in the trash. Never place loose sharps in the trash and never place sharps containers in your recycling bin. (NYC residents will not be penalized for placing a recyclable container containing sharps in their regular household garbage if the container is clearly marked "Home Sharps - Not for Recycling".)
---
Unwanted Medications
There is no easy answer to the disposal of unwanted medications. Discarding them in the trash can increase the risk of unauthorized use, while flushing down the toilet can contaminate the water supply. Visit the NY State Department of Environmental Conservation's dontflushyourdrugs.net

website for information about why flushing your drugs is harmful.
The best practice is to reduce the amount of medication that you throw out by taking home only the amount of medication you expect to use, and to test the medication if you haven't had it before. For example, if your doctors writes a prescription for a 30-day supply of a new medication, you can ask the pharmacist for just a few pills to start with as a trial.
However, if you do have unwanted medications, certain medications can be donated to be used by people in need. Visit products and services for organizations that accept unwanted medications.
Alternatively, you can take advantage of a drug take-back program, being offered at local pharmacies, government events, and via mail-back. The US Drug Enforcement Agency's National Take Back Initiative

website also lists information about prescription drug drop-off events, including controlled substances

. All pharmaceuticals, including controlled substances can be taken to upcoming NYC Department of Sanitation SAFE disposal events.
If you cannot find a donation outlet or a take-back program, The White House Office of National Drug Control Policy

recommends that you refer to printed material accompanying the medication for specific disposal instructions. Most prescription drugs should be mixed with an undesirable substance (such as used coffee grounds or kitty litter) and put in impermeable, non-descript containers (such as empty cans or sealable bags) marked "not recyclable - disposal only" before discarding them in the trash. However, according to the Food and Drug Administration (FDA) certain medications should be flushed

for safety purposes. For information on radioactive medication, see the NYC Department of Health and Mental Hygiene's radiological health page

.
---
Other Household Medical Materials
Use securely tied bags to dispose of soiled bandages, disposable sheets, medical gloves, tubing, and intravenous (IV) materials in the trash.
See mercury containing devices for information concerning the safe handling and disposal of mercury thermometers and other devices that contain mercury.