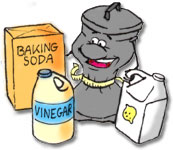 Before buying, using, or discarding potentially harmful products, consider the following.

before buying


when using


when discarding 


emergency phone numbers
---
Look for hazard levels on product labels. Look for signal words — DANGER and POISON indicate high-level hazards, while, WARNING and CAUTION represent lower levels. Pay attention to other messages on the label such as "causes burns on contact," "vapors harmful," or "extremely flammable." These labels are required through the Federal Insecticide, Fungicide, and Rodenticide Act for pesticides, the Federal Food, Drug, and Cosmetic Act for cosmetics, and the Federal Hazardous Substances Act for all other hazardous substances. To go beyond the label, search online for Material Safety Data Sheets (MSDS) for the specific product.
Don't buy more than you need. Think about how much you'll actually need in order to reduce how much you discard or store. It may be better to purchase smaller containers as needed rather than one large container, to avoid both spillage and excess material to dispose.
Consider environmentally preferable, non-toxic products. Many retailers sell alternative products that are organic or made with safer ingredients. There are even third-party or industry certifications such as Green Seal, EPEAT, and others to help you identify these products.
back to top | back to harmful household products
---
Follow product instructions. More is not better — you won't get twice the results by using twice as much. Use products only as directed and only when necessary.
Never mix products or chemicals. This is especially true for ammonia and bleach, which can cause respiratory problems when combined. Store potentially harmful products out of the reach of children and pets. Use child-proof cabinet locks or containers.
Store potentially harmful products out of the reach of children and pets. Use child-proof cabinet locks or containers.
back to top | back to harmful household products
---
What goes in the trash? The specific items that NYC residents can't discard in the trash are listed on disposal guidelines. However, residents can throw away certain harmful products (such as fluorescent bulbs, paints, pesticides, and cleaning products) legally in residential trash because residents usually generate such small quantities of these products.
Different rules apply to commercial entities, which generate larger quantities of harmful materials.
Read product instructions for disposal guidelines.
All liquids must be dried out. Use an absorbent material such as kitty litter or newspaper to soak up fluid before placing in trash.
Double-bag before discarding. For the safety of Sanitation workers, please double-bag harmful products before discarding these products in your regular trash.
Recycle empty containers. Unless marked "DANGER — CORROSIVE," empty glass or plastic bottles and all metal containers can be recycled through NYC's recycling program.
Excess harmful household products can be disposed of at upcoming NYC Department of Sanitation SAFE disposal events.
NYC residents may bring certain products to NYC Department of Sanitation's household special waste drop-off sites in each borough.
Donate working electronics and usable paint.
Residents may also contact a private hazardous waste vendor equipped to deal with harmful household products. This is especially encouraged for highly corrosive or flammable liquids.
back to top | back to harmful household products
---
Post emergency phone numbers (fire, medical assistance, poison control center) by your phone and teach children how to use them.
Call for help in case of poisoning. If you think a family member (or pet) has been exposed to a harmful product, call the NYC Poison Control Center 

 Hotline at (212) POISONS (764-7667) or toll-free 1-800-222-1222. The Hotline is available 24 hours a day, 7 days a week.