NYC apartment buildings are eligible to participate in an innovative new program that provides buildings with a free
and convenient service to pick up and recycle unwanted electronics. Sign up now.
This program is a partnership between the City of New York and Electronic Recyclers International (ERI)

.
See press release.


how e-cycleNYC works


why buildings should enroll


why focus on apartment buildings


what other services e-cycleNYC will provide


does this program require extra work for building staff


what electronics are accepted


what is not accepted


what happens to the electronics accepted


how program is funded


how to enroll


e-cycleNYC in the news
ALSO SEE:
electronics recycling options
electronics take back programs
The in-building service provided by e-cycleNYC represents the most comprehensive electronics recycling program offered by any municipality in the country.
Depending on the size and type of building, NYC apartment buildings (larger than 10 units) will be eligible for a variety on-site service options to conveniently and safely recycle unwanted electronics.
Service options include:
room cleanouts (buildings with 10 or more units)
storage bins (buildings with 50 or more units)

e-cycleNYC provides your building with a locking bin to store electronics. There are two bin sizes available, a small bin (2 ft deep x 4 ft wide x 5 ft high) and a large bin (2 ft deep x 5.5 ft wide x 6 ft high).

building events (buildings with 250 or more units)
Buildings, management companies, or residents that want to express interest in e-cycleNYC can complete an online inquiry form.
Recycling electronic equipment keeps harmful materials out of the waste stream and the environment.
While safe to use, electronics often contain lead, mercury, and other hazardous materials. In fact, electronics make up the largest and fastest growing component of the hazardous materials entering the waste stream. For this reason, many states, including New York, ban the disposal of electronics in the trash.
Starting in 2015, it will be illegal for New Yorkers to discard electronics in the trash.
Why Focus on Apartment Buildings
The goal of e-cycleNYC is to make electronics recycling as easy as possible for NYC residents, many of whom live in apartment buildings and can't readily transport TVs and other large electronics to drop-off events or retail take-back programs.
Over 50 percent of NYC's population lives in apartment buildings, and over 50 percent of NYC's population have no access to a vehicle. Due to these factors, the rate of electronics recycling in New York City falls below the state average. Sanitation hopes to boost the electronics recycling rate in NYC by targeting those buildings that have the most difficulty recycling their electronics.
This program is one of a suite of programs that the Department of Sanitation has designed specifically for apartment buildings. These programs include the re-FashioNYC program that provides donation bins for eligible buildings to reuse and recycle unwanted clothing and linens. The Apartment Building Recycling Initiative helps building managers, supers, and residents to improve recycling operations through on-site assessments and trainings.
All residents, regardless of where they live can attend SAFE disposal events and can use existing take back options for electronics, including free drop off at Goodwill, Salvation Army, Best Buy, Staples (no TVs), and other locations.
What Other Services e-cycleNYC will Provide
In addition to the apartment building program, e-cycleNYC will collect electronics at future SAFE Disposal events. At these events, which are held annually in each borough, NYC residents can discard unwanted harmful household products, including electronics.
While this program does need to be overseen by building staff, it should be much easier than the labor of bringing heavy electronics to the curb.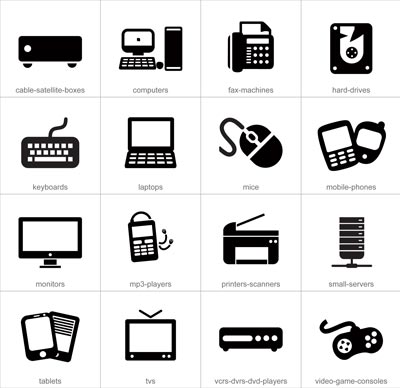 The list of accepted electronics is based on NY State Law. To keep this program free of charge to all participants, e-cycleNYC must restrict our program to items that are on this list.

Appliances: If predominantly metal or rigid plastic, recycle these with other metal and plastic recyclables, otherwise discard as trash.
Batteries: Bring rechargeable batteries to any store that sells them, such as a pharmacy, office supply, or hardware store. Rechargeable batteries may contain mercury, cadmium, lead and other heavy metals which can be dangerous if not disposed of properly. Alkaline batteries can be discarded in the trash. Standard alkaline batteries are not considered hazardous waste, since they no longer contain mercury.
Fluorescent Bulbs: Compact fluorescent bulbs can be dropped off for free recycling at any Home Depot, IKEA, Lowes, or other participating retailers. CFLs and other fluorescents can be brought to any of NYC Department of Sanitation's Household Special Waste Drop-Off Sites or upcoming SAFE disposal events.
What Happens to the Electronics Accepted
When choosing a partner, DSNY required that all materials be handled in an environmentally responsible manner, which ensured that none of the electronics accepted would be landfilled or exported illegally. Electronic Recyclers International, the City's e-cycleNYC partner, is both e-stewards and R2/RIOS certified. These certifications represent the two leading responsible electronics recycling standards. In addition, while residents should remove data prior to discarding electronics, ERI will fully erase data as part of the recycling process. Watch this video to view the recycling process.
Under New York State's Electronic Equipment Recycling and Reuse Act, manufacturers are required to establish programs for residents to recycle their electronics in a free and convenient manner. No taxpayer nor federal aid dollars will go toward establishing e-cycleNYC, instead the program will receive funding from various electronics manufacturers.
If you're interested in participating in this new and convenient electronics recycling program, please complete our online inquiry form.