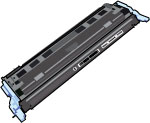 Ink and Toner cartridges do not contain hazardous materials and can be placed in the trash. However, there are often reuse and recycling markets for these items.
Go to take-back programs for a list of manufacturers or retailers that accept these items for recycling.
Go to products and services to find toner cartridge recyclers and charities with toner cartridge recycling programs.
ALSO SEE:
waste prevention tips: toner cartridges