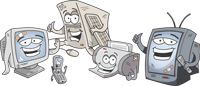 Rechargeable batteries (found in cell phones, tools, toys, laptop computers, etc.) must be recycled. It is illegal for New York City residents, City agencies, and/or businesses to discard rechargeable batteries in the trash or in residential recycling containers. Other batteries, such as alkaline and button batteries, are not required to be recycled. For information on how to dispose of non-rechargeable batteries, visit battery disposal tips.

residents


city agencies


businesses 
---
Residents may return up to ten rechargeable batteries to any NY State store that sells the same shape and size rechargeable battery or products that contain rechargeable batteries (with the exception of small food stores). For more information about where to drop off batteries for recycling and what types of batteries are accepted, visit rechargeable battery info for consumers. For general tips on batteries (including alkaline, button, and UPS batteries) visit the battery tips page.
back to top | back to electronics recycling
---
For information on how city agencies can properly discard rechargeable batteries, visit agency rechargeable battery recycling.
back to top | back to electronics recycling 
---
Businesses looking to recycle their rechargeable batteries can make arrangements with Call2Recycle 

to set up a program to collect used rechargeable batteries at their office or location, or may contact a rechargeable battery recycler.
Businesses that sell rechargeable batteries (or products containing rechargeable batteries) are required by law to accept rechargeable batteries from the public for recycling during normal business hours. For more information about your responsibilities under the nyc rechargeable battery law, visit the rechargeable battery retailer requirements page.
ALSO SEE:
nyc rechargeable battery law
ny state rechargeable battery law