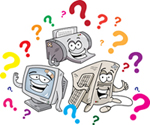 Can residents throw away their electronics?

Why are electronics potentially hazardous when discarded?

Where can I donate or recycle my electronics?

Why doesn't NYC have more convenient electronics recycling?

Before I recycle or donate my computer, how can I safeguard my personal information?

What is being done to reduce the toxicity of electronics?

Where can I find free or cheap used electronics?
---
CAN RESIDENTS THROW AWAY THEIR ELECTRONICS?
Used electronics from households are currently not regulated as hazardous waste. The NYS Electronics Equipment Recycling and Reuse Act will ban the disposal of certain electronics such as TVs, computers, peripherals, and some portable devices by individuals and households by 2015, and requires a manufacturer take-back program to handle household electronic waste by April 2011. Other electronics can be discarded as regular trash.
Recycling or donating these items, however, keeps hazardous materials out of the waste stream and the environment. There are many opportunities to recycle or donate electronics available within the City.
City agencies, schools, businesses, and institutions (including nonprofits) are required to recycle their electronics.
---
WHY DOESN'T NYC HOLD ELECTRONICS RECYCLING EVENTS?
Unfortunately due to budget cuts all DSNY electronics recycling events are cancelled. Prior to 2008, the DSNY Bureau of Waste Prevention, Reuse and Recycling held electronics recycling events 10 times a year throughout the City.
However, due to the NYS Electronics Equipment Recycling and Reuse Act, there are currently various other donation or recycling outlets available for electronics, including many manufacturer and retailer take-back programs, community group collections, and charitable organization donation 

programs.
back to top
---
WHY ARE ELECTRONICS POTENTIALLY HAZARDOUS WHEN DISCARDED?
While safe to use, computers, TVs, and other electronics contain heavy metals such as lead, mercury, and cadmium, which can pose a problem to the environment if not properly recycled.
---
WHAT IS BEING DONE TO REDUCE THE TOXICITY OF ELECTRONICS?
Globally, there have been initiatives to try to reduce the toxicity of electronics when alternatives are available. The European Union 

, Japan, China, and Korea 

as well as the State of California 

all have legislation that requires the reduction of toxics in electronics. Many manufacturers have decided to comply with this legislation globally.
Within the United States, a voluntary program known as EPEAT (Electronic Product Environmental Assessment Tool) has been established to help purchasers identify electronics that meet a variety of performance indicators, including toxic reductions. When purchasing new electronics, check to see if the item you are purchasing is "EPEAT Certified."
Locally, the City Council passed Local Law 120 of 2005 that limits the amount of toxicity within electronic devices purchased by City agencies.
---
BEFORE I RECYCLE OR DONATE MY COMPUTER, HOW CAN I SAFEGUARD MY PERSONAL INFORMATION?
Before disposing, recycling, or donating your computer, it is a good idea to remove all personal information from your hard drive to protect yourself from identity theft. At past DSNY e-waste events, our electronics recycling vendor was required to follow a Department of Defense standard 

to wipe everything from the hard drive three times to ensure that all data is fully erased. Other programs may have different requirements. Contact programs individually to inquire about their data destruction techniques.
Data wiping software is also available to help you erase your hard drive prior to recycling it. Another option is to remove the hard drive before recycling your computer. This way, you can still recycle the computer without having concerns about the data on the drive.
DSNY does not endorse, has not tested, and cannot guarantee the quality of the data wiping software mentioned in Products and Services.

---
WHERE CAN I FIND FREE OR CHEAP USED ELECTRONICS?
There are organizations, such as Freecycle, Craigslist, and other electronics online material exchanges who facilitate the swapping of products. Find additional materials exchange websites and organizations in Frequently Asked Questions on the NYC Stuff Exchange 

.
Schools and nonprofits: find out how to get donated goods.