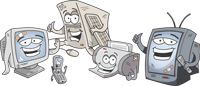 All businesses and institutions (including nonprofits), are required by law to recycle computer equipment, unless it is donated or resold for reuse.
Although large organizations (businesses with over 50 employees and non-profits with over 75 employees) are not eligible to utilize free recycling services under the NYS Electronic Equipment Recycling and Reuse Act, there are still a number of options for responsibly managing end-of-life electronics.
Donate to a national charity or use nyc stuff exchange  or nyc wastematch  to find a local charity.
Check your contract terms for product take-back provisions. Original purchase agreements may include stipulations for end-of-life product management.
Utilize an asset-recovery program. These programs are specifically tailored to large businesses and designed for large amounts of equipment.
Many manufacturers and retailers offer similar take-back programs to businesses as they do to residents, except they charge a fee. To find programs specific to your brand of covered electronic equipment, visit your manufacturer's website or call their toll-free telephone number listed on the New York State Department of Environmental Conservation's list of electronic equipment manufacturers registered in NYS . 
Finally, large businesses can always hire a third-party recycler.
back to top | back to take-back | back to electronics recycling