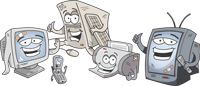 All City agencies and schools are required to recycle computer equipment, unless it is donated or sold for reuse. DSNY will not accept these items in the trash.
To get rid of electronic equipment, agency Information Technology Officers (IT Officers) are responsible for determining whether the equipment is spent/damaged (and therefore waste), or whether it is in working condition (has reuse potential).
If a determination is made that electronic equipment owned by the agency has exhausted its useful life and now requires disposal, mayoral agencies should use the citywide Agency Safe Handling contract. Non-mayoral agencies do not have access to the Agency Safe Handling contract and must use a qualified independent vendor to recycle spent electronics. Electronics recyclers can be found using the information provided in electronics recycling products and services. 
Electronics deemed by an IT Officer to have reuse value (at either a mayoral or non-mayoral agency) should be submitted through the DCAS relinquishment process for inter-agency transfer and/or sale offering.
DCAS has issued two memos regarding the disposal of electronics. View both DCAS electronic waste determination memos (pdf).
For more information about agency relinquishment procedures, see Reuse it NYC at City Agencies.