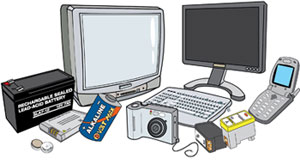 Recycling electronics keeps potentially harmful materials out of the waste stream and the environment.
Effective 2015, certain electronic equipment (such as computers and televisions) will be banned from disposal.
Recycling options for working & non-working electronics:
1. DSNY's e-cycleNYC program.
Apartment buildings with more than 10 units can enroll for this free and convenient pickup service.
2. Retail drop-off programs.
For example, drop off electronics (no purchase required) at any Goodwill, Salvation Army, Best Buy, Staples (no TVs), or the Gowanus E-Waste Warehouse. See map below.
3. Free mail-back programs.
Check your brand's website for details.
4. Electronics recycling events.
Bring to events run by organizations such as Lower East Side Ecology Center, or DSNY's SAFE Disposal Events.
5. Donate or sell working electronics.
Visit the NYC Stuff Exchange to find place to buy, sell, or donate electronics.
See google map of NYC Electronics Drop Off Locations.

applicable laws


info for agencies & schools


info for businesses & institutions
ALSO SEE:
ny state electronics recycling law
frequently asked questions
electronics purchasing tips
electronics products and services
cell phone products and services
---
A combination of local and state laws dictate the management of these items:
---
Info for Agencies and Schools

electronic devices other than cell phones and batteries


cell phones


rechargeable batteries


all batteries


ink and toner cartridges
---
Info for Businesses and Institutions

electronic devices other than cell phones and batteries


cell phones


rechargeable batteries


ink and toner cartridges