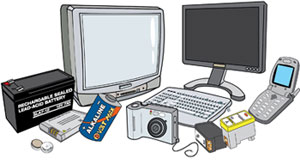 Recycling electronics keeps potentially harmful materials out of the waste stream and the environment.
Effective 2015, certain electronic equipment (such as computers and televisions) will be banned from disposal.
NYC residents can recycle working & non-working computers, TVs, and related devices through legally-mandated programs funded by electronics manufacturers (at no cost to residents and no purchase required). Specific examples of these types of take back programs include drop-off at Goodwill, Salvation Army, Best Buy, Staples (no TVs), and other locations.
See google map of NYC Electronics Drop Off Locations.
NYC apartment buildings can sign up for e-cycleNYC, an innovative program provides buildings with a free and convenient service to pick up and recycle unwanted electronics.
To manage your electronics legally and responsibly, take advantage of take-back, reuse, and recycling programs. Below you will find information specific to certain products (covered by law or commonly recycled) and across certain sectors (different requirements for residents, governments, and businesses). Products that are not specifically addressed below may still have reuse or recycling options.

applicable laws


info for residents


info for agencies & schools


info for businesses & institutions
ALSO SEE:
ny state electronics recycling law
frequently asked questions
electronics purchasing tips
electronics products and services
cell phone products and services
---
A combination of local and state laws dictate the management of these items:
---
Info for Residents
REUSE AND RECYCLING OPTIONS


take-back progams


DSNY SAFE disposal events


e-cycleNYC


trade-in progams


national charities


nyc stuff exchange for local charities


third-party recyclers


reuse tips
PRODUCT SPECIFIC


cell phones


computers, TVs, peripherals, and some portable devices


ink and toner cartridges


rechargeable batteries


non-rechargeable batteries


all other electronics
---
Info for Agencies and Schools

electronic devices other than cell phones and batteries


cell phones


rechargeable batteries


all batteries


ink and toner cartridges
---
Info for Businesses and Institutions

electronic devices other than cell phones and batteries


cell phones


rechargeable batteries


ink and toner cartridges