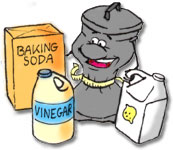 usage dangers


emergency phone numbers


disposal dangers
---
Accidental swallowing or improper use of harmful household products can cause severe illness and even death. The NYC Poison Control Center receives over 50,000 calls each year concerning unintentional poisonings, most involving children under the age of five.
back to top | back to harmful household products
---
Post emergency phone numbers (fire, medical assistance, poison control center) by your phone and teach children how to use them.
Call for help in case of poisoning. If you think a family member (or pet) has been exposed to a harmful product, call the NYC Poison Control Center 

 Hotline at (212) POISONS (764-7667) or toll-free 1-800-222-1222. The Hotline is available 24 hours a day, 7 days a week.
back to top | back to harmful household products
---
If automotive products, cleaners, certain paints, or pesticides are improperly discarded, Sanitation workers can suffer eye, respiratory, and burn injuries. In addition, chemicals from these products can leach into the environment and pollute the water, soil, and air. Before purchasing, using, or discarding any harmful household product, read these important handling tips.
On the other hand, many household products including alkaline batteries, latex paint, and fluorescent lamps are no longer dangerous (or pose a minimal threat) because they are now manufactured with no or few hazardous chemicals, but may still require special packaging and handling before disposal.