Annually NYC residents throw away approximately 200,000 tons of clothes, towels, blankets, curtains, shoes, handbags, belts, and other textiles and apparel. Why New Yorkers sometimes choose to toss out rather than donate their unwanted clothes is believed to be a matter of convenience.
re-fashioNYC: NYC's Clothing Reuse Program (Extended) from NYC Recycles on Vimeo.
re-fashioNYC is a partnership between the City of New York and Housing Works

to make clothing donation as easy as possible through convenient in-building drop-off service.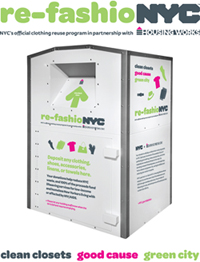 The partnership is unique because it provides any participating apartment building of 10 units or more with convenient donation services at no cost to the building or taxpayers. Some businesses who regularly collect and donate clothing may also be eligible for participation in re-fashioNYC. The program is expected to grow slowly in response to participation requests and Housing Works ability to expand its services.
If you're interested in participating in this new and convienient clothing reuse program, please complete our online enrollment program inquiry form.
If your re-fashioNYC bin is full and needs to be emptied, the bin monitor should call 212-437-4678 or email re-fashioNYC@dsny.nyc.gov to request a pickup.

how the program works


frequently asked questions
ALSO SEE:
ny times blog


sanitation press release


ny1 video

---
If you're a building owner or manager of a building with more than 10 units, or business owner, you'll be the one to sign up.
Step 1: fill out online enrollment program inquiry form with basic information about your building or site. We will then send you a program application where you will need to include contact information for an on-site staff person (an on-site manager, custodian, porter, doorman, or other on-site employee) who we will train to call or email us when the bin is full, or if there are any questions or concerns about the program.
Step 2: We work with you to schedule a site visit. During the visit, we'll discuss how many bins you want, what sizes are best for you, and where they should be placed. We'll also answer any general questions you have about waste prevention, reuse, and recycling in your building.
Step 3: We provide you with re-fashioNYC Service Plan confirming all the details of your participation. After you've reviewed the plan, we'll schedule the delivery of your donation bin on a first-come, first-served basis. This may take up to three months.
After you receive your bins, simply call or email us when a pickup is needed. The designated bin monitor should email re-fashioNYC@dsny.nyc.gov or call 212-437-4678. We guarantee collection within 5 business days. If your bin fills up on a regular basis, we can pre-schedule set pickups. If anything comes up, you can reach us right away.
Tax receipts are available. People who drop donations in the bin that are valued at less than $250 can use the tax receipt forms supplied with the bin itself. Donations over $250 must be brought to a Housing Works Thrift Shop location.

---
What items can be deposited into the re-fashioNYC donation bins?
We encourage donations of any clean fabric or material, including clothing, towels, linens, curtains, or clean rags; as well as shoes and accessories such as belts and handbags.
My building does not have a re-fashioNYC bin; where can I donate clothing and other items?
re-fashioNYC clothing donation bins are located in apartment buildings for use by the tenants and staff. If you don't have a re-fashioNYC bin in your building, visit NYC Stuff Exchange

to find locations near you where you can donate unwanted clothing and accessories, in addition to books, furniture, electronics, and other gently used goods. re-fashioNYC is a program in partnership with Housing Works

. To find Housing Works donation locations, please visit their donate

page.
Will re-fashioNYC donation bins attract bed bugs?
The simple answer is no. Clothing collection bins have been around for years and have not been linked to bed bugs. According to the Department of Health and Mental Hygiene's (DOHMH) webpage with bed bug information for NYC residents,

bed bugs are small insects that feed on human blood, not clothing, and they need a "blood meal" to grow and lay eggs. So once they are away from people, they are basically dormant. Also, donations that are deposited into the re-fashioNYC bins cannot be removed by others in the building. All donors are asked to make their donations in clear plastic bags to contain and isolate individual clothing donations. Bed bugs don't travel like ants or cockroaches, so they pose no risk of exiting the bin on their own. Only Housing Works crews will be removing the contents, and like other charities that handle donations, Housing Works carefully screens all clothing at their sorting facility for tears, stains, and other issues including bed bugs.
What is the size of the re-fashioNYC donation bins and what do they look like?
re-fashioNYC donation bins are roughly six feet high and four feet wide. The larger size is approximately 3 1/2 feet deep and the smaller size is roughly 2 feet deep. Bins are assembled on site by our crews. The bins are heavy gauge metal and tamper-proof. They are white with attractive graphics and instructions telling people how to use the bin.
If I'm a tenant, how do I get my building signed up?
Use our online inquiry form to let us know where to send an invitation letter and brochure. We'll contact your building manager and encourage them to sign up.
What types of businesses are eligible to participate?
Businesses who regularly collect and donate clothing or other textiles, either in their function or from their patrons, may be eligible. Suitability for enrollment in the program will be determined on a case by case basis.
What are the responsibilities of the on-site staff person?
One or more staff agree to meet us for an initial site visit and be there when the donation bins are delivered. Then they just contact us when the bins are nearly full, or if other issues arise. That's it!
How will we know when the re-fashioNYC donation bin is (nearly) full?
The donation bins are designed with a side panel window so you will be able to see when the bin is full.
What if someone throws garbage in the re-fashioNYC donation bin?
If this happens (which should be rare), we will collect the contents and work with you to resolve the issue through educational materials for your tenants.
Is it OK to deposit items in plastic bags?
Yes, you can deposit donations loose or in bags. Clear plastic bags are encouraged.
How do individuals get tax receipts for their donations?
The outside of the clothing bin contains a supply of forms that donors can use to list their donations. Donation receipt forms can also be printed out online. No validation is needed for tax purposes if donations are valued at $250 or under. Any donation valued at more than $250 can be validated by bringing the form, along with the donation, to any Housing Works Thrift Shop location.

What if we no longer want to participate in re-fashioNYC?
Simply contact us and we'll arrange to have the donation bin(s) removed.
Is there a limit to how many buildings can participate in re-fashioNYC?
No, we want as many buildings to participate as possible! With nearly 200,000 tons of clothing, linens, and accessories going into the garbage every year, we need every donation we can get. However, because this is a new program, enrollment will take place on a first-come, first-served basis, with an initial waiting period of up to three months for bin placement. Once your bin is installed, we'll guarantee to respond to your calls for pickup within five business days.
What happens to clothes and other items deposited into the re-fashioNYC donation bins?
Your donations will be picked up and transported to Housing Works'

warehouse in Queens for sorting. Some donations will be sold in Housing Works' shops throughout NYC or at one of their regular "all-you-can-stuff" warehouse sales. Some leftovers from these sales will be shipped to another nonprofit thrift shop in Haiti, while others will be made available to different nonprofit thrift shops for sale in their stores. The rest will be sold to a used textile merchant for recycling or export to overseas markets. In all cases, the profits generated from the sale of your donations will benefit low-income and homeless New Yorkers living with and affected by HIV/AIDS.
How does re-fashioNYC differ from other clothing donation programs?
Unlike existing thrift shops and charitable operations that receive donations in their shops or pick up door to door, re-fashioNYC allows you to make donations from the convenience of your own building whenever you want. In contrast to for-profit used clothing companies that supply similar collection bins, re-fashioNYC is 100% nonprofit and charitable.
Does this program cost NYC any money?
No. NYC oversees the operations of the program but it is self-funded through the sale of your donations.
Why was Housing Works

selected as the charitable partner for re-fashioNYC?
Of the many charitable organizations that answered New York City's partnership offer, Housing Works proposed the best plan for getting the most value out of the donations and routing them back to help New Yorkers in need. According to this partnership, Housing Works is the sole and exclusive textile recycler operating on behalf of New York City.
What is the mission of Housing Works?


Housing Works is a healing community of people living with and affected by HIV/AIDS. Their mission is to end the dual crises of homelessness and AIDS through relentless advocacy, the provision of lifesaving services, and entrepreneurial businesses that sustain their efforts.
Why can't clothing be left at the curb for recycling collection?
If these materials get wet, their value is destroyed. Placing a free re-fashioNYC donation bin at your building allows people to bring clothing and linens to a convenient and dry location. This ensures that items remain valuable and can go to good use. It also offers a way for us to provide tax receipts for donations.
How can I improve recycling in my apartment building?
You can improve recycling in your building with NYC's Apartment Building Recycling Initiative (ABRI). Through ABRI, participants work with the Department of Sanitation's Bureau of Waste Prevention, Reuse and Recycling to educate building residents and staff about the three R's: Reduce, Reuse, Recycle.
back to top