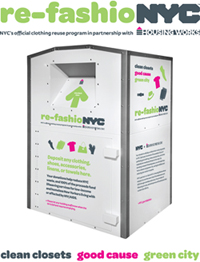 re-FashioNYC is NYC's official clothing reuse program in partnership with Housing Works.
If your building has more than 10 units and you're interested in hosting a re-fashioNYC clothing donation bin, please fill out the inquiry form below.
Because this is a new program, enrollment will take place on a first-come, first-served basis, with an initial waiting period of up to three months for bin placement. Once your bin is installed, we'll guarantee to respond to your calls for pickup within five business days.
---
NOTE: fields marked with an asterisk (*) are required.
Please note: it may take us a few weeks to get back to everyone due to the overwhelmingly positive response we have received to this exciting new program.