UPDATE: NYC is currently undertaking a new
residential waste characterization study. The results and
analysis below reflect the waste landscape in 2004-05.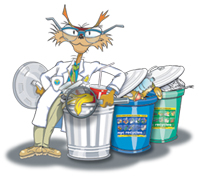 Amount of Organics in NYC's Residential Waste
In 2004 and 2005, the NYC Department of Sanitation (DSNY),

along with its research consultants, conducted an extensive waste characterization study to find out what's in NYC's residential refuse and recycling over four seasons.
The pie chart below shows the amount of organics found in NYC's residential waste stream. Nearly 29% of NYC's residential waste is suitable for source-separated composting, including yard trimmings, food wastes, compostable paper. Another 12% consists of wood and miscellaneous organic materials suitable for composting at an industrial scale.
Compostable and Non-Compostable Fractions
of NYC's Residential Waste
Source: NYC Waste Characterization Study, 2004/05 Annualized Results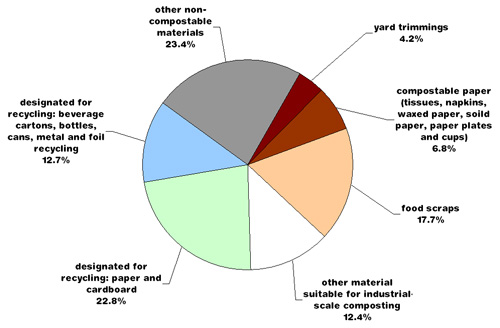 Summary of Material Groups

paper, metal, glass, and plastic materials
  designated for curbside recycling in NYC
35%
organic materials suitable for source-separated composting
29%
organic materials suitable for industrial scale composting
12%
other materials
23%