UPDATE: NYC is currently undertaking a new
residential waste characterization study. The results and
analysis below reflect the waste landscape in 2004-05.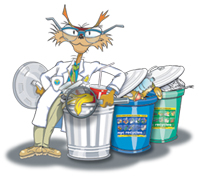 amount of organics in nyc's residential waste


what can be composted


why nyc doesn't compost food scraps


on-site composting efforts
Amount of Organics in NYC's Residential Waste
In 2004 and 2005, the NYC Department of Sanitation (DSNY),

along with its research consultants, conducted an extensive waste characterization study to find out what's in NYC's residential refuse and recycling over four seasons.
The pie chart below shows the amount of organics found in NYC's residential waste stream. Nearly 29% of NYC's residential waste is suitable for source-separated composting, including yard trimmings, food wastes, compostable paper. Another 12% consists of wood and miscellaneous organic materials suitable for composting at an industrial scale.
Compostable and Non-Compostable Fractions
of NYC's Residential Waste
Source: NYC Waste Characterization Study, 2004/05 Annualized Results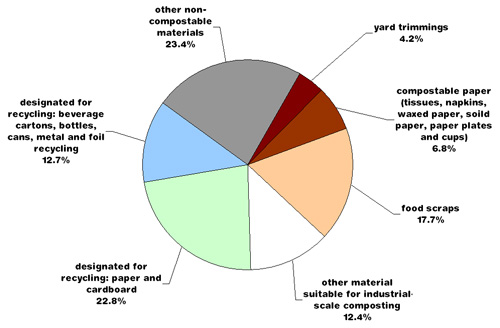 Summary of Material Groups

paper, metal, glass, and plastic materials
  designated for curbside recycling in NYC
35%
organic materials suitable for source-separated composting
29%
organic materials suitable for industrial scale composting
12%
other materials
23%
---
What Can Be Composted on a Municipal Scale
Although the potential for composting is considerable, currently only yard trimmings and Christmas trees can be cost-effectively collected and composted in NYC on a citywide scale.
The reasons for this are simple. Leaves, yard waste, and Christmas trees, unlike most other organic waste in NYC, are typically gathered and collected separately from other residential waste. Such plant materials are also relatively inert and odorless; they can be collected seasonally; and can be composted at centralized municipal sites using a low-tech, inexpensive outdoor method called windrows.
Find out more about DSNY's current organics collection programs and composting operations.
In the longer term, the best hope for increased organic waste recycling in NYC lies in the ongoing development of mixed waste (or MSW) composting and anaerobic digestion. Neither technology is as of yet foolproof and cost-effective enough to be implemented widely, but advances in these and other systems continue to be monitored. To find out more about these and other technologies, see helpful links about large-scale composting.
---
Why NYC Doesn't Have Curbside Food Scrap Collection
Some cities, such as San Francisco 

and Seattle,

collect residential yard trimmings, food scraps, and compostable paper wastes in a separate curbside setout. They transport them to centralized facilities, where they are transformed under controlled conditions into compost.
Many avid composters and waste reducers wonder why New York City does not collect food scraps and other compostables from every household. Here's why:

density


collection costs


lack of processing facilities
DENSITY
New York City is ten times as dense as the next densest city in the U.S., San Francisco. Buildings with ten, fifty, hundreds, or thousands of apartments are not the exception here, they are the norm. Imagine separating food scraps, yard trimmings, and compostable paper wastes in such a situation.
Apartment dwellers would have to separate and save things like vegetable and meat scraps, dirty paper towels, plant wastes, and the like; take them to a central area and dump them into a communal bucket; and this bucket of organic materials would then be collected once or twice a week at curbside.
Problems of odor, vermin, mess, and above all contamination with non-organic wastes would be practically guaranteed under such a scenario, even with the best education programs in place.
This is why many multi-unit apartment buildings in Seattle and San Francisco opt out of organics separation, and also why this practice is not carried out in even the "greenest" of European cities like Amsterdam in dense areas of the city.
COLLECTION COSTS
DSNY currently sends out three separate trucks to collect materials from residents: one for paper recyclables; a second for commingled beverage cartons, bottles, cans, metal, and foil, metal, glass and plastic; and a third for refuse. (In some cases a split body truck is used for the two designated recycling streams.)
Instituting a source separated organics collection would mean putting another set of trucks on the road, a highly expensive endeavor with air and noise impacts of its own. In order for it to be even faintly efficient from a cost or traffic impact standpoint, most everybody would have to be participating fully to source separate organics, not just a few diehards. This is highly unlikely given the problems of storing food waste in apartment buildings, explained above.
LACK OF PROCESSING FACILITIES
Let's say density and collection-cost obstacles could be overcome, the question would then be where we would send the collected organics -- which for food scraps, yard trimmings, and compostable paper alone would amount to close to a million tons a year of material.
Currently, facilities to accept and compost this volume of wastes from NYC do not exist in the New York area, nor is it likely that the residents of the City of New York would tolerate the construction of needed infrastructure here, given the intense opposition to the siting of even small leaf composting sites.
---
On-Site Composting Efforts in NYC
Due to the problems associated with curbside food scrap collection, the composting of food scraps and other organics will have to take place in NYC on a smaller, more localized level for the foreseeable future.
Through the NYC Compost Project, the DSNY Bureau of Waste Prevention, Reuse and Recycling (BWPRR) provides compost outreach, education, and technical assistance to encourage residents to compost at home, in the backyard, or in the community, as well as encouraging schools, apartment complexes, and institutions to compost their organic waste.
NYC is fortunate to possess an active community of avid composters who have implemented small, on-site composting operations, and some have also set up drop-off locations to accept food scraps for composting.