UPDATE: DSNY completed a 2013 Residential Waste Characterization Study that is an update to the 2004-05 Study detailed below. The pie chart below illustrates the composition of the residential waste stream collected by Sanitation. Full results and analysis will be posted in late 2014. Stay posted!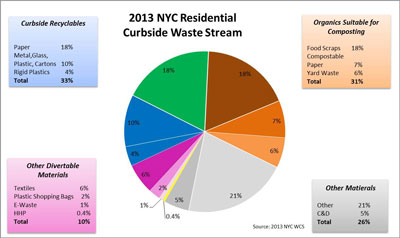 LEGEND:
HHP = Harmful Household Products
C&D = Construction and Demolition
E-Waste = electronics
Other = all other items in the waste stream, such as diapers, pet waste, sanitary products, plastic film and foam, non-C&D wood items, upholstered items, etc.
The New York City 2004-05 Residential and Street Basket Waste Characterization Study is a comprehensive look at the composition and generation rates of New York City residential and street basket waste.

what is the WCS?


why study our waste?


waste categories


waste streams


what the study covered
Results of the Study


pie charts


results highlights


final nyc wcs report
ALSO SEE:
organics in nyc's waste
all about plastics
---
The New York City 2004-05 Residential and Street Basket Waste Characterization Study (WCS) is a "census of NYC waste" — a comprehensive look at the amount and composition of what New Yorkers discard at home, and in street baskets. Its goal was to provide detailed, accurate, and reliable statistics on the different materials that New Yorkers discard at home and in street baskets, including trash and recycling.
The NYC Department of Sanitation (DSNY),

along with its research consultants, conducted the WCS between 2004 and 2005. Preliminary data was gathered in early 2004, followed by four full seasons of extensive sampling.
For the WCS, NYC's refuse, paper recycling, and metal/glass/plastic/beverage carton recycling were physically sorted into 91 different material categories.
Both the trash (refuse) and recycling portions of the waste stream were studied, at equivalent levels of detail. Statistics were also calculated on "waste", combining refuse and recycling together as a whole, to understand everything that New Yorkers are consuming and getting rid of, whether through recycling or disposing as trash.
The WCS was designed to be as flexible and inclusive as possible because there are countless ways to identify, classify, and sort materials found in what New Yorkers throw away. The 91 material categories studied can be grouped in various ways to provide summary statistics. The results can be understood as percentages of the total; as total tons per month or year, and even as pounds per capita or per household.
The Final Report covers the Preliminary WCS, all four seasons of the WCS, and the Annualized WCS Results.
The Results Highlights, written by DSNY, is an overview of major findings of the study, including a guide to using the voluminous pages of data presented Final Report.
---
Why Did DSNY Conduct the Waste Characterization Study (WCS)?
In order to plan wisely and effectively, we have to know what we are dealing with.
By understanding what is in the trash, we can plan for new and better approaches to waste prevention, reuse, recycling, and composting.
Studying what NYC residents put out for recycling helps us to assess how well residents are complying with recycling regulations, and where they need more education.
---
In each season, professional sorters separated 850 representative samples of NYC trash and recycling into 91 different categories. The sample size and number of samples used in the study met rigorous requirements to achieve statistical significance.
There are many ways to group these 91 categories, but we have found that the following headings provide a useful overview:
CURRENTLY DESIGNATED FOR RECYCLING
THROUGH DSNY COLLECTION
paper: newsprint, cardboard, and mixed paper

plastic bottles and jugs

glass containers

metal cans, foil, and other household metal items

beverage cartons
NOT CURRENTLY DESIGNATED FOR RECYCLING
THROUGH DSNY COLLECTION
other types of plastics besides bottles and jugs

other paper: napkins, tissues, paper plates and cups, laminated paper

organics: including food scraps, yard trimmings, and other organic materials

electronic waste: including TV's, monitors, computers, cell phones, and other electronics

textiles and carpets

construction and demolition debris (C&D)

household hazardous waste

miscellaneous inorganics
Readers can also make their own groupings of the 91 categories if they want to answer a particular question; see the Guide to the Tables (pdf) in the WCS Results Highlights to learn how to do this.
Workers sorting samples of NYC's waste into different material categories.
---
The results of the WCS are provide information on the four types of residential waste-streams that the Department of Sanitation is responsible for collecting:
Refuse: the contents of the trash bags and cans (and bulk refuse items) that NYC residents set out for collection


Paper Recycling: the contents of the paper recycling bags and bins that NYC residents put out for collection


Metals/Glass/Plastic/Beverage Cartons (MGP) Recycling: the contents of the MGP recycling bags and bins (and bulk metal items) that NYC residents put out for collection


Street Basket Waste (Refuse): the contents of the litter baskets located on NYC street corners for pedestrian use (Note: street basket waste was not studied during the Preliminary WCS)
In addition, we provide information on Waste — the combination of refuse, paper recycling, and metals/glass/plastic/beverage cartons recycling — to understand the composition of the totality of what NYC residents discard.
---
In New York City, residential waste comprises refuse and recycling that New York residents generate at home and set out for DSNY collection. The WCS covers dwellings of all sizes and types, as long as they are residential, including the smallest houses to the largest high-rises. The WCS studied residential waste, as well as street-basket waste. It also included a supplementary look at apartment building waste at the building level.
What Was Not Covered
The WCS did not study wastes arising from commercial or nonprofit enterprises of any kind – including retail outlets, restaurants, offices, hospitals, schools, factories, commercial construction and demolition outfits, or other work-related sources. Some older data on the composition of NYC commercial and institutional wastes, from DSNY's 1989/90 Study, is available upon request. A more recent Commercial Waste Management Study by the Department, dated 2004, is posted on the Sanitation website.