2007 Public Space Recycling Pilot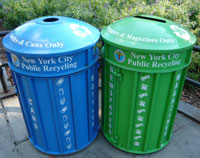 locations


how locations were chosen


how the pilot was promoted


pilot highlights


pilot final report
---
Locations for the 2007 Public Space Recycling Pilot
Test sites for the Spring 2007 Public Space Recycling Pilot included:
Bronx: Poe Park 

Brooklyn: Columbus Park 

Manhattan: Union Square Park

 & Whitehall Ferry Terminal
Queens: Hoffman Park 

Staten Island: Tappen Park

, Clove Lakes Park 

, St. George Ferry Terminal
At each location, there were pairs of recycling containers, both within the sites as well as the perimeters, to capture recyclables from passersby.
See current locations of public space recycling containers collected by the NYC Department of Sanitation.
---
How Locations Were Chosen for the 2007 Public Space Recycling Pilot
The locations for the public space recycling containers were chosen in coordination with several city agencies (Sanitation 

, Transportation 

, and Parks & Recreation 

), as well as City Hall and the NYC Council 

. The participation of Transportation and Parks & Recreation on-site maintenance staff was key to making the effort work.
---
Promotion for the Spring 2007 Public Space Recycling Pilot
From April through June 2007, bus stops and phone kiosks in the immediate area of nearly all the pilot locations promoted public space recycling through area-specific advertising.
To help publicize public space recycling in the Staten Island Ferry Terminals, the DSNY Bureau of Waste Prevention, Reuse and Recycling  (BWPRR) worked with the NYC Department of Transportation

 and FerryAds.com

 to place promotional posters in the Ferry Terminals and on the Staten Island Ferry.
Other ways to promote public space recycling at the Ferry Terminals included the deployment of BWPRR's blue and green recycling bin characters, the distribution of Metro

 newspapers that had a recycling message on the cover, and the handing out free bottled water with a "public space recycling" label. 
BWPRR Outreach Coordinators played a key role in publicizing the Pilot. They accompanied the blue and green recycling bin characters at events, distributed promotional materials, and encouraged passersby to use the new bins.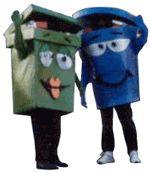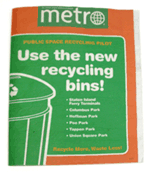 ---
Highlights from the 2007 Public Space Recycling Pilot
Public space recycling works well for newspaper and other recyclable paper.
Participation was, on average, good for paper recycling, and the material placed in the paper bins was relatively free of non-recyclable trash (contamination). Overall, the contamination rate was less than 5%.
Bottle and can recycling in public spaces is problematic.
In contrast to paper, contamination rates for bottle and can (MGP) recycling were very high (almost 37%), and tonnages were lower than Paper recycling tonnages at all sites.
Public space recycling is best in downtown areas dense with commuters and lunching office crowds.
The sites with the lowest contamination rates and the largest amounts collected were the ferry terminals, Union Square, and Columbus Park. These sites are characterized by heavy commuter use and are located in dense, downtown neighborhoods with large numbers of office workers who use the public space for lunch. In contrast, public space recycling was highly contaminated and yielded little material in residential parks frequented primarily by families and children. Such users are less likely to generate newspapers, bottles, and cans than are commuters and lunching office workers.
There's much more to successful public space recycling than just setting out a bin.
Successful public space recycling required ongoing monitoring of bins by maintenance staff. They continually replaced bag liners so the bins were not overflowing, stored the separated paper and MGP over the course of the week, and properly placed the bags of recyclables in a designated spot for weekly collection. Future efforts should only be mounted in areas with permanent maintenance staff who are committed to working with DSNY collections on a longterm basis.
Other cities encounter similar challenges as NYC.
For this pilot, the DNSY Bureau of Waste Prevention, Reuse and Recycling researched public space recycling in London, England; Toronto, Canada; Seattle, and Portland. All cities face challenges keeping their public space recycling free from contamination, and all place bins in high traffic areas where efforts are most likely to succeed. 
Carefully located public space recycling can be an important symbolic and educational feature of NYC's recycling program.
Contrary to popular opinion, waste generated in public spaces is only a tiny fraction of residential, public maintenance, and commercial wastes overall. While public space recycling won't raise the city's diversion rate by more than fraction of a percentage point, it is an important way to reinforce the Reduce, Reuse, Recycle message
---
Final Report of NYC'S 2007 Public Space Recycling Pilot Program
The files below are PDF (Portable Document Format) documents; you'll need the free Adobe Acrobat Reader 

to display and print them.
Appendix I: Public Space Recycling in Other Cities
Appendix II: Site Profiles
Part 1

: Union Square Park, Manhattan; Columbus Park, Brooklyn; Whitehall Ferry Terminal, Manhattan; St. George Ferry Terminal, Staten Island

Part 2

: Poe Park, the Bronx; Hoffman Park, Queens

Part 3

: Tappen Park and Clove Lakes Park, Staten Island
Appendix III: NYC Public Space Recycling Pilot: Consultant's Report