Processing and Marketing Recyclables in NYC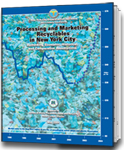 May 2004
This report discusses current recycling economics, the history of New York City's recycling program in light of such economics, and an in-depth comparison of NYC to several large U.S. cities.
The files below are PDF (Portable Document Format) documents; you'll need the free Adobe Acrobat Reader

to display and print them. Due to the size of the file, this report is divided into the following sections:
Table of Contents / Director's Note / Acknowledgments / Abbreviations and Definitions
Chapter 1: Recycling Economics
•The Recycling Market
•Recycled Materials Prices
•Competition Between Various Buyers and Sellers
•World Markets
•Regional Factors
•Government Intervention into Markets
•Chapter Conclusion: Applied Economics
Chapter 2: Modern History of NYC Recycling
•"Modern" Recycling Comes to New York
•Establishing the Citywide Recycling Program
•Processing Recyclables: Early Problems
•Early Initiatives to Develop Private Capacity to Process NYC Recyclables
•Developing Private Capacity: What Happened Instead
•The Lessons of History
Chapter 3: Lessons from Other U.S. Cities
•The Case of San Francisco
•The Case of Los Angeles
•The Case of Chicago
•The Case of Seattle
•Chapter Conclusion: Applied Comparison
Appendix I: State Recycling Goals and Mandates
Appendix II: Beyond Case Studies: Comparative Studies of Recycling Rates
Appendix III: Waste Prevention Policy and Planning
Appendix IV: Public Education about Recycling
Appendix V: NYC Department of Sanitation Annual Recycling Report for 2002 submitted to the NYS Department of Environmental Conservation
Appendix VI: Comparative Recycling Data for Chicago, Los Angeles, New York, San Francisco, and Seattle
The following appendices are included only as pdfs on the report CD, not in the printed report. Since they are large files, some are broken up into several sections:
New York City Department of Sanitation, Office of Operations Planning, Evaluation, and Control, New York City Recycling Strategy White Paper, January 1988.
New York City Department of Sanitation, Office of Operations Planning, Preliminary Recycling Plan, Fiscal Year 1991. Section 1 | 2 | 3
New York City Department of Sanitation, A Comprehensive Solid Waste Management Plan for New York City and Final Generic Impact Statement, August 1992. Section 1 | 2 | 3 | 4 | 5 | 6 | 7 | 8 | 9 | 10 | 11 | 12 | 13
New York City Department of Sanitation, A Comprehensive Solid Waste Management Plan for New York City and Final Generic Impact Statement, Appendix Volume 4.1, Waste Management Components, August 1992. Section 1 | 2
Urban Research Center, New York University/Appleseed for the New York City Department of Sanitation, Exploring Economic Development Opportunities in Recycling, August 1993. Section 1 | 2