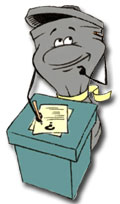 The DSNY Bureau of Waste Prevention, Reuse and Recycling analyzed results of a telephone survey of over 2000 randomly selected New York City residents, balanced to reflect residents in all types of neighborhoods throughout the five boroughs. Here are some highlights of what we've learned. 
Read the original 1999 report and the 2005 update.
---
NYC Recycles!
Most people recycle. On average, 85% of New Yorkers surveyed report that they "always" or "frequently" recycle. Only 4% say they never do. In a separate question, close to 80% report recycling more than once a week, and another 17% recycle once a week. Less than 5% recycle less frequently than that.
back to top
---
Recycling: It's Not Just the Law, It's Also a Good Idea
About half of NYC residents surveyed say that they recycle because it is the law; and more than half say that they also recycle because it's good for the environment and communities.
---
A Small Number "Can't Be Bothered"
The number one reason why people don't recycle, or don't recycle as much as they should is....laziness and/or inconvenience. The minority of folks who aren't participating find it a chore and a bore to recycle.
---
Most NYC Residents Know Where it Goes
Most residents surveyed consider themselves well informed about how to recycle properly in NYC:
Nearly 75% say that they don't find NYC recycling confusing in any way.

Over 90% correctly identify newspapers, cardboard, cans, and bottles as recyclable.

Only ½ a percent say that they don't recycle at all because they are confused about the rules.

Only 9% of the 25% who do have questions (that's less than 2% of all respondents) report confusion over the temporary suspension of plastics and glass recycling in 2002-2004.
---
Some Confusion Exists Among a Small Number
About 25% of NYC residents surveyed have questions about recycling or report finding it confusing in any way. About a third of this minority are not completely sure of what is, and is not, supposed to be recycled. Fewer numbers report not being sure of what goes in the "blue" versus the "green" recycling bin, their recycling collection day, 

 how materials should be set out for collection, and other varied issues. No one area of confusion stands out, however.

PAPER: In comparison to newspaper and cardboard (which over 90% of NYC residents surveyed know is recyclable) only 70% realize that all types of mixed paper can be recycled. What's more, 70% think that newspapers and magazines must be bundled and tied (they don't!). Find out more about residential paper recycling. 
 
back to top
---
Future Directions
The Bureau's market research also asked about awareness of recent publicity campaigns. As new campaigns are launched, we will use these baseline results to test the impact of advertisements, TV spots, and mailings on public awareness.