Composting in NYC
A Complete Program History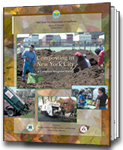 August 2001
Summarizes the DSNY Bureau of Waste Prevention, Reuse and Recycling's pilot and on-going programs to compost the organic portion of the City's waste stream. The report also offers recommendations for future pilot study and possible new program development in this area.
The files below are PDF (Portable Document Format) documents; you'll need the free Adobe Acrobat Reader 

to display and print them. Due to the size of the file, this report is divided into the following sections:
Introductory pages
• Cover
• Table of contents
• List of tables
• Abbreviations and definitions
• Director's note
• What is composting?
Two models for centralized composting: source-separated and mixed material
• Source-separated leaf and yard waste
• Source-separated food waste
• Mixed-material pilot
Decentralized (on-site) composting
• Composting on-site at city institutions
• The compost project outreach and education program
• Backyard composting pilot
• In-sink, food-waste disposals
• Future directions
• Appendices I and II: Waste characterization and Memorandum of understanding
• Appendix III: Intensive program interim report