To display and print the PDF (Portable Document Format) document below, you'll need the free Adobe Acrobat Reader

.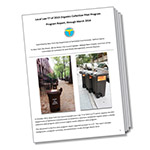 Local Law 77 of 2013 Organics Collection Pilot Program Report (June 2014) presents preliminary results of NYC Department of Sanitation's NYC Organics Collection Pilot Program. The report includes background on DSNY's organic waste collection policies and strategies, a program summary, and preliminary results of DSNY's school and voluntary residential pilot programs through March 2014.
The preliminary report showed that DSNY has collected a total of 2,764 tons of organic waste from September 2012 through March 2014, of which 1,910 tons were collected under the school collection pilot and 854 tons were collected from residential households voluntarily participating in the program. The collection of 1,910 tons under the school collection pilot reflects an incremental expansion of the school program that took place over two school years reaching about 400 sites, including 358 schools, together with 45 agency sites and high-rise apartment buildings that DSNY also services on its school collection routes. The collection of 854 tons under the voluntary residential curbside program reflects the roll-out into additional neighborhoods in Fall 2013 when DSNY began servicing about 31,800 households after a small initial pilot area began on Staten Island in May 2013.