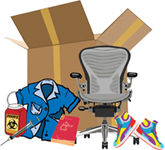 Clothing Products and Services



see disclaimer

professional clothing donations


winter coat donations


costume donations


shoe donations


online reuse and material exchanges


community swaps


textile recyclers 
ALSO SEE:
business textile recycling requirements
clothing take-back programs
donation information
online materials exchanges
nyc stuff exchange 

---
Professional Clothing Donations (and Consultants)
Bottomless Closet 


professional, clean, new or gently worn women's work clothing, including: suits (skirts or pants), blouses, sweaters, jackets, coats, scarves, shoes, purses, briefcases, costume jewelry, and new pantyhose
545 Eighth Avenue, 12th Floor
New York, NY 10018
(212) 563-2499

Promotes economic self-sufficiency by providing interview skills, business clothing, and ongoing career development and support programs to economically disadvantaged New York City women.
Career Gear 


new or nearly new interview-appropriate men's clothing
120 Broadway, 30th Floor
New York, NY 10271
(212) 577-6190

Organization provides clean, contemporary, interview-appropriate clothing, and follow-up career support services to men graduating from skill-training programs. Call for donation times and drop-off locations. Only clothing donations from corporate suit drives, manufacturers, and retailers are accepted. Individual clothing donations are not accepted.
Dress for Success 


new or nearly new interview-appropriate women's skirt and pant suits, blouses, blazers, and shoes
32 East 31 Street, Suite 602
New York, NY 10016
(212) 545-DSNY

Not-for-profit organization that helps low-income women make tailored transitions into the workforce. Call or check their website for donation events, times and drop-off locations.
Plush Fashion Styling 

 
wardrobe consulting including closet cleanse and personal styling
25 Christopher Street
New York, NY 10014
(917) 348-3170

Organization provides wardrobe consulting and closet styling services, including assisting clients in selling or donating unwanted clothing to charitable outlets.

back to top | back to office/home products and services | back to products and services
---
NY Cares 


coats
214 West 29 Street, 5th Floor
New York, NY 10001
(212) 228-5000

Every December, the New York Cares Coat Drive collects coats at NYC Police precincts and participating businesses, for distribution to New York City's neediest.
back to top | back to office/home products and services | back to products and services
---
Costume Collection 


period clothing (prior to 1950) and theatrical costumes
601 West 26 Street
New York, NY 10001
(212) 989-5855

Accepts donations of clothing dating from 1950 and earlier, and theatrical costumes; rents costumes at discount to nonprofit theater groups.
back to top | back to office/home products and services | back to products and services
---
Shoe4Africa 


Urban Athletics 

 uptown store on 1291 Madison Avenue accepts donations during the first week of the month. Call ahead (212-828-1906) before dropping off any shoes or clothing. Check out the frequently asked questions 

 page of the Shoe4Africa website to find out how you can mail packages yourself. Sending just one pair of running shoes can make a big difference to someone's life.
Soles4Souls 


Soles4Souls facilitates the donations of shoes, which are used to aid the hurting worldwide. Shoe companies, retailers, and individuals can donate footwear (both new and used). Drop-off locations throughout NYC.
back to top | back to office/home products and services | back to products and services
---
Online Reuse and Material Exchanges for Clothing/Sporting Goods
DigNSwap.com 


Dig N' Swap takes clothes-swapping parties to the next level by giving you access to items listed by other fashionistas from all over the country, and allowing you to update your wardrobe while protecting your saving account and the environment.
MakeupAlley.com 


Register online and trade makeup with others by mail or in person.
MeetUp.com 


Helps groups of people with shared interests plan meetings and form offline clubs in local communities around the world. Look for groups focused on clothing swaps and find others interested in trading clothes.
Rehashclothes.com 


Rehashing, at its most basic definition, is a way to swap your clothes with others. To "Rehash" is to place an item (a Rehash) up for trade. Others can see your items and offer you their items in exchange for something you have that they like. If you like what they're giving you, accept the trade and you'll be wearing new threads in no time.
S.M.A.R.T. Textiles Exchange (STX) 


A joint venture between the Secondary Materials & Recycled Textiles Association 

and RecycleNet Corporation, 

 promotes the international trade of secondary and scrap textiles.
SwapStyle.com 


SwapStyle.com is an interactive fashion website where members can swap, rather than buy, unlimited designer clothes with each other, 24 hours a day, seven days a week, for a small annual subscription fee.
ThredUp.com 


An online clothing exchange enabling people to post the contents of their "closet" and search the items in others' closets for swapping.
ALSO SEE:
general online material exchanges
back to top | back to office/home products and services | back to products and services 
---
Cyntex Company
120 E. Hartsdale Ave, Suite 1P
Hartsdale, NY 10530
(914) 472-4922
CareCycle 


625 Wortman Avenue
Brooklyn, NY 11208
(718) 688-6000
Emerson Recycling
65 Emerson Place
Brooklyn, NY 11205
(718) 622-1799
Mill Wiping Rags
1656 E 233rd Street
Bronx, NY 10466
(718) 994-7100
Trans-America Trading Company 


50 Carol Street
Clifton, NJ 07014
(973) 778-4611
Wipe Tex International
110 East 153rd Road
Bronx, NY 10451
(718) 665-0013
back to top | back to office/home products and services | back to products and services