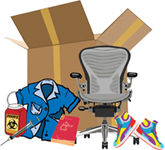 Children's Items Products and Services



see disclaimer

donation outlets


parenting material exchanges


consignment services
---
Note: As of August 14th 2008, the U.S. Consumer Product Safety Commission, in response to hazardous materials found in the making of toys (such as lead), signed into effect the Consumer Product Safety Improvement Act. This Act effectively bans the donation and re-sale of certain childrens products (unless the product passed toxicity tests).
Army Volunteers in Iraq
new and gently used stuffed animals
To request the kit, call the USPS at 1-800-610-8734 (Packing Supply) Choose your language (1 for English, 2 for Spanish) Choose option 1 (For Express Mail, Priority Mail, and Global Express)When you reach an agent, request CAREKIT04.

Tonya Myrick
USACE-GRS
APO-AE
09331

US soldiers will give stuffed animals to Iraqi children. The free mailing supply kit lets you send items to military personnel, which includes boxes, tape, labels and custom forms. You still need pay a nominal fee for postage (it's a domestic rate).
Baby Buggy


new and gently used infant and toddler clothing, bedding, furniture, and gear
(212) 736-1777

Organization collecting and redistributing infant and toddler items to families in need.
Children's Hope Foundation


children's items; see wish list
11 Park Place, Suite 1203
New York, NY 10007
(212) 235-5133
City Harvest


baby formula and baby food
575 Eighth Avenue, 4th Floor
New York, NY 10018
(917) 351-8700

Collects and distributes fresh, prepared, canned, and packaged food.
Inwood House


toys, clothing (newborn through early teens), baby furniture (including cribs, strollers, and car seats), maternity clothing. Check their donation policy.

320 East 82 Street
New York, NY 10028
(212) 861-4400, ext. 270
Established in 1830, Inwood House is a nationally recognized leader and innovator in teen pregnancy prevention, youth development and family support.
K.I.D.S. (Kids In Distressed Situations, Inc.)


new and overstock children's clothes, toys, shoes, beds, books, art supplies, and other children's products (donations are only accepted from retail outlets and businesses)
350 Fifth Avenue, Suite 3801
New York, NY 10118
(212) 279-5493
(800) 266-3314 toll free

Distributes donated juvenile products to nonprofit agencies.
Ronald MacDonald House New York


soap, toothpaste, toys, general children's items
405 East 73rd Street
New York, NY 10021
P: 212-639-0100
info@rmdh.org
Room to Grow


new or nearly new toys, clothing, books, and equipment (bedding, high chairs, strollers, swings), for children under age three. Check their donation policy.

54 West 21 Street #401
New York, NY 10010
(212) 620-7800

Provides parents in poverty with essential items for their growing babies, and offers one-on-one parenting guidance to ensure their child's healthy start in life.
SAFE (Stuffed Animals For Emergencies)


new and gently used stuffed animals and toys
Contact a local chapter by visiting their website to find out where to donate.

SAFE volunteers collect new and gently used stuffed animals and toys to be redistributed to Police, Fire & Rescue, Ambulance Services, Children's Homes, Hospitals, Life Flight, and other emergency organizations. These emergency organizations use the stuffed animals to ease the children's nerves and calm their fears.
Stuff Exchange


Search on NYC Stuff Exchange for the types of children's items you are looking to donate, such as toys/games, clothing, or housewares.
back to top | back to office/home products & services | back to products & services
---
Park Slope Parents Online Parenting Groups


Park Slope Parents maintains a list of neighborhood and parenting groups throughout the five boroughs, across the country, and even some international groups, where parents can chat, trade, and organize events.
recrib


An online marketplace for buying and selling gently used kids and baby gear.
ALSO SEE:
community swaps
back to top | back to office/home products & services | back to products & services
---
Be Green Kids Consignments


Offers parents a safe setting to buy and sell gently-used kids items.
Shop Luck Finds


Shoppers will find a great selection of gently used children's designer clothing and brand same gear and toys.
NYC Stuff Exchange


Please check NYC Stuff Exchange for consignment stores where you can buy and sell used children's clothing.
ALSO SEE:
children's items take-back
clothing take-back programs
donation information
online materials exchanges
textile recyclers
back to top | back to office/home products & services | back to products & services