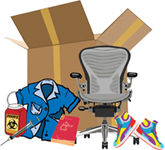 Books
Products and Services



see disclaimer

book donations


community swaps


online reuse and material exchanges


recyclers
---
International Book Project


dictionaries, literature, practical agriculture books, grammar books
1440 Delaware Avenue
Lexington, KY 40505
(888) 999-BOOK (2665)
Send books plus $3.00 per pound donation to cover shipping costs. Call to organize book drives.
ALSO SEE:
nyc donation outlets
back to top | back to office/home products and services | back to products and services
---
Online Reuse and Material Exchanges for Books
BetterWorldBooks.com


All books are processed for sale, donation or recycled.
BookMooch.com


BookMooch is a community for exchanging used books. BookMooch lets you give away books you no longer need in exchange for books you really want. There is no cost to join or use this web site: your only cost is mailing your books to others.
MeetUp.com


Helps groups of people with shared interests plan meetings and form offline clubs in local communities around the world. Look for groups focused on book swaps and find others interested in trading books.
PaperBackSwap.com


Mail a book. Get a book. Any book you request is yours to keep, share or trade. Not just paperback books. Hardcovers, audiobooks, textbooks, and more.
TextSwap.com


TextSwap is a free textbook exchange service that allows you to easily trade used textbooks online by choosing a University.
TitleTrader.com


Create an account, login, and list the items you would like to get rid of. When someone wants an item that you have you will be notified.
ALSO SEE:
general material exchanges
back to top | back to office/home products and services | back to products and services
---
Green Earth Book Recyclers


Green Earth Book Recyclers provides a reuse and recycling option for college bookstores. They provide interested college bookstores with a large box to collect unwanted and unsaleable books. Green Earth pays the bookstore a small handling fee and all shipping charges to retrieve the full cartons. Books in good condition are donated, and the rest are sent for grinding and recycled into a variety of paper products.
ALA Recycling Industries


ALA Recycling buys new or used academic text books, soft and hardcover books, magazines and newsprint from companies and schools. ALA Recycling provides prompt pick-up and transports the skidded loads to mills for processing.
ALSO SEE:
paper recyclers
what to recycle with sanitation (paperbacks)
back to top | back to office/home products and services | back to products and services