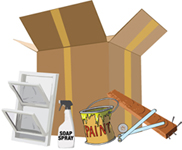 Set and Prop Products and Services



see disclaimer
---
NYC WasteMatch 


unwanted, surplus, or used business supplies, furniture, and equipment
City College of New York
Steinman Hall, Rm 102
140th Street & Convent Avenue
NY, NY 10031
(212) 650-5832

This free materials exchange service is sponsored by the NYC Department of Sanitation. NYC WasteMatch facilitates the exchange of unwanted, surplus, or used supplies, furniture, and equipment from businesses to entities in need of them. Materials are available for free or a low cost.
FilmBiz Recycling 


Set dressing, chairs, tables, plant stands, wardrobe, props, etc

43-26 12th street 2nd floor LIC 11101
(718) 392-3304
info@filmbizrecycling.org

Please call ahead for donations, they may divert the items to one of their reuse partners. They give away much more than they keep!

Costume Collection 


theatrical costumes and period clothing (prior to 1950)
601 West 26 Street
New York, NY 10001
(212) 989-5855

Accepts donations of clothing prior to 1950, and theatrical costumes; rents costumes at discount to nonprofit theater groups.
Set Recycling Hotline 


platforms, props, lumber, hardware, paint, and theatrical audio, video & lighting equipment
20 Seaman Avenue #2J
New York City, NY 10034
(212) 650-7566
setrecyclinghotline@yahoo.com


Call the Set Recycling Hotline to arrange donations.
ALSO SEE:
donating surplus materials 
online materials exchanges 
back to top | back to maintenance products and services | back to products and services