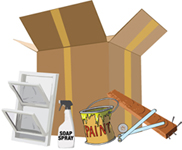 Pesticides/Herbicides/Fertilizer Products and Services



see disclaimer
---
Pesticide Alternatives
Beyond Pesticides


Offers Safety Source for Pest Management

 which is a database of garden and pest management service providers.
Biocontrol Network


(615) 370-4301
(800) 441-2847
Alternative fungicides, herbicides, home and personal care products, and pest management alternatives, including beneficial insects.
Gardens Alive!


812-537-8650
Environmentally responsible seed, traps, pesticides, weed control, fertilizer.
Home Harvest Garden Supply, Inc.


(800) 348-4769
Alternative gardening products.
Med-Pest Control


350 Mountain Avenue
Middlesex, New Jersey 08846
(732) 469-5999
Non-chemical pest control products and services.
Nisus Corporation


100 Nisus Drive
Rockford, TN 37853
(800) 264-0870
Database of service providers and distributors for its product line of borates.
Planet Natural


1612 Gold Ave.
Bozeman, MT 59715
(800) 289-6656
Earth-friendly pest control and home care products.
Safer Gro


(805) 650-8918
Certified organic pesticides, nutrients, and soil amendments.
Sources for Organic Fertilizers & Amendments


Database of organic fertilizers and suppliers.
ALSO SEE:
pesticide tips for home
pesticide tips for work
helpful links about pesticides
back to top | back to maintenance products and services | back to products and services