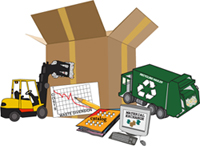 see disclaimer

hazardous waste recycling databases


hazardous waste recyclers
---
Hazardous Waste Recycling Databases
NYS Recycling Markets Database


This interactive, on-line database is hosted by Empire State Development (ESD), and is intended to help users locate outlets for materials that can be reused, recycled or composted. To find facilities that accept household hazardous waste, scroll to the bottom of the page, click "Continue" and then select "Chemicals/Solvents" under the Primary drop-down. You can search county-wide, state-wide, or by area code.
Verizon Super Pages

. Use search terms such as "hazardous waste disposal", "harmful product removal", "hazardous waste recycler".
back to top | back to general products and services
back to products and services
---
Radiac Research and Environmental Services


261 Kent Avenue
Brooklyn, NY 11211
(800) 640-7511 or (718) 963-2233
Permitted chemical transfer facility accepting household hazardous waste for transportation, remediation, and disposal.
ALSO SEE recycling haulers for specific harmful products:


automotive products


batteries


cleaning products


computers & electronics


lighting


paint


paint thinner & stripper


pesticides, herbicides, fertilizer


thermostats and mercury devices
back to top | back to general products and services
back to products and services